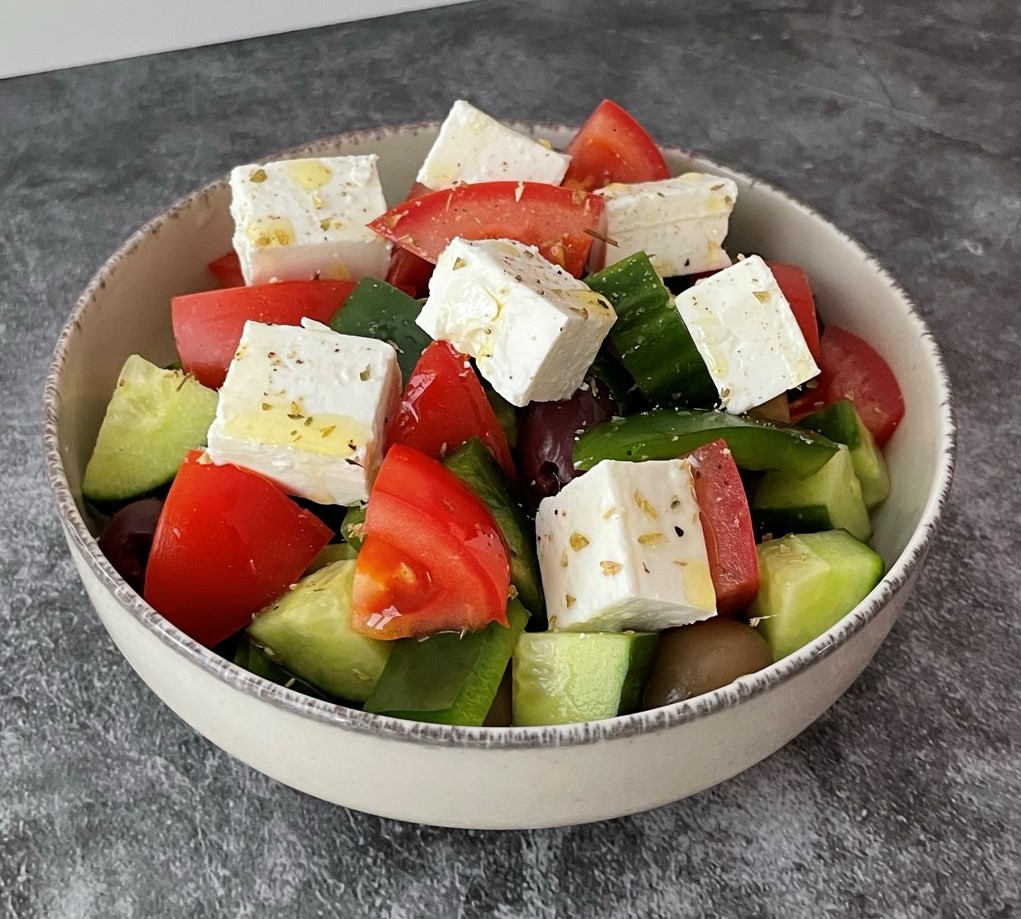 Nothing says summer to me like a fresh and colourful greek salad. This super easy recipe is absolutely perfect as a side dish for any barbeque. I can especially recommend this salad if you're grilling some fish. This will really bring out the chilled vibe of the mediterranean lifestyle to your own back garden.
When we were in Greece a little while back they served this simple, yet delicious salad as a side to their fresh catch of the day. You certainly don't need many ingredients to quickly throw together this authentic salad as a side to any summer meal. Especially if you're looking for something light, but still bursting with flavour.
It's all in the feta cheese
Choosing a high quality feta cheese is crucial to this Greek salad. This ensures you get a dish absolutely packed with flavour. Not to mention the slightly sour tanginess of the cheese perfectly compliments the freshness of the cucumber, the saltiness of the olives, and the sweetness of the tomatoes.
Make sure to use olive oil
Just like the feta cheese, using a good quality olive oil will give the characteristic flavour of an authentic Greek salad. I advise you not to use another type of oil as you will definitely compromise the final flavour of the salad. 
Which olives to chose? As this dish is a Greek salad i would recommend to go with a Greek variety of olives. Kalamata is my absolute favourite type of olives. They can be eaten in various stages of ripeness, anything from the slightly firmer green to the almost too soft black variety. Perhaps you get a mix of the olives to have a few in each stage of ripeness.
Perfect alone, or paired with other dishes
The recipe we have provided gives two generous portions, which is perfect on the side of a piece of grilled meat or fish. Having said that, I would say that this meal comfortably does 4 portions if it is not the only side dish present. That is to say: maybe you also fancy a large chunk of crusty low FODMAP sourdough with your meal? Or how about a lightly dressed low FODMAP potato salad? Just make sure to consult the MONASH FODMAP APP to make sure you stay within the safe limits of FODMAPS.
Are you looking for some inspiration for some other light and tasty summer salads?
Print Recipe
Low FODMAP Greek salad
Authentic and easy to make Low FODMAP Greek salad
Ingredients
200

grams

cucumber

about 1/2 a cucumber

130

grams

tomato

roughly 1 large tomato

100

grams

green pepper

75

grams

pitted olives

100

grams

Feta cheese

1

tbsp

olive oil

1

tsp

dried oregano

1

pinch

black pepper/salt

to taste
Instructions
Cut the cucumber, tomato and green pepper into medium-sized chunks. Cut the Feta cheese into 2cm cubes.

Drain and cut the olives in half.

Add all the ingredients to a bowl, dress with olive oil, oregano, salt & pepper.