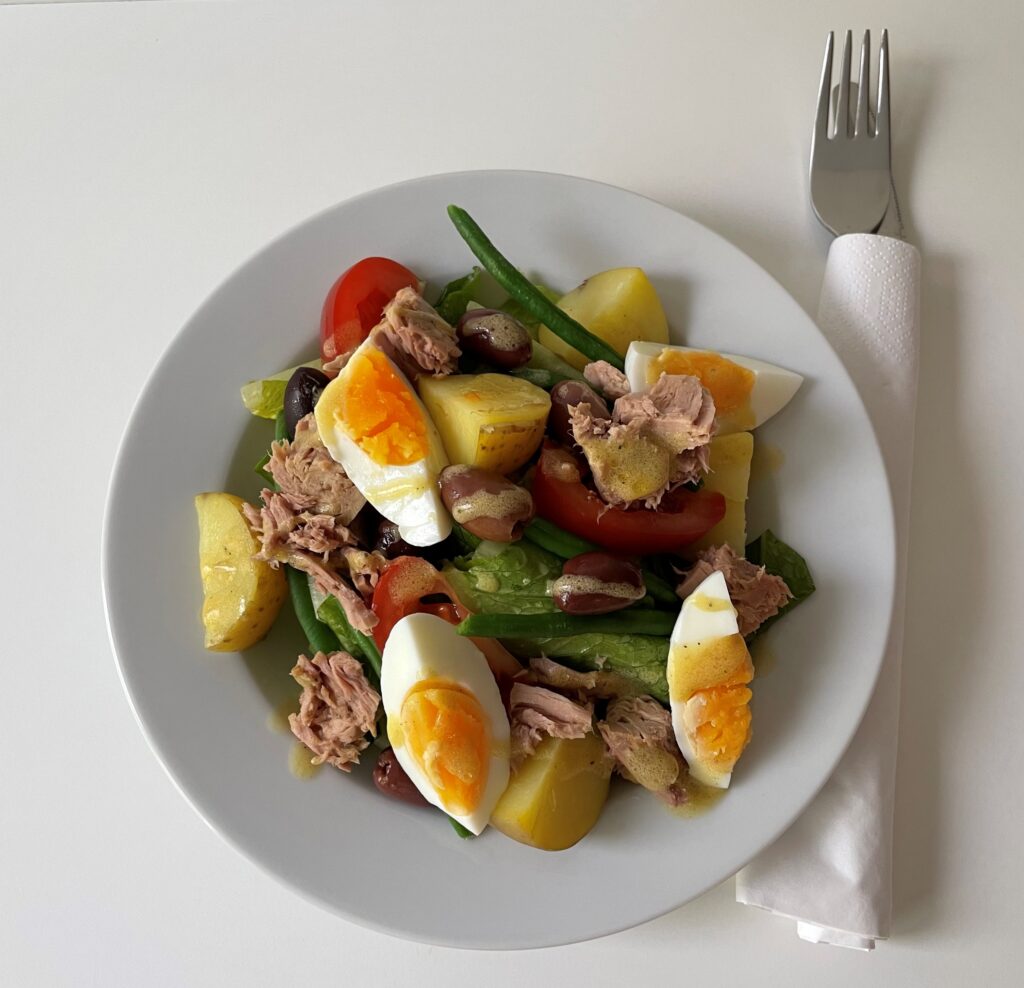 A low FODMAP take on the classic French "Salade niçoise". While most of the ingredients are traditional we have had to adjust a few of the ingredients to make it low FODMAP.
More traditional recipes would contain both garlic and shallot/red onion from the recipe. In this case i believe the salad is just as tasty without them. And if you want a hint of garlic flavour you can always drizzle a bit of garlic infused olive oil over the top of the salad before serving. A perfect summer salad!
For this salad we used a Romaine lettuce. Lettuce in general is low FODMAP (some don't contain any FODMAPs at all- you can check this on the Monash FODMAP app). Romaine lettuce makes for a light fresh crispy base, which helps keep the salad feeling light, yet still substantial. However, you can switch it out for any assortment of green leafy salad mixes such as spinach or rocket. This is not traditional for a Niçoise salad and you would lose the fresh crispness, but feel free to experiment with what you have got. Who knows, you might find an even better type of lettuce substitute.
This salad is served with a fairly basic and straight forward vinaigrette. But don't let the simplicity of the vinaigrette scare you. When it comes to vinaigrette i find that less is very often more. It does not need very many ingredients to still turn out well.
The base of the vinaigrette is made from dijon mustard, white wine vinegar and olive oil. All 3 of these can be substituted with other products from the respective categories if you don't like either of them. Dijon can be replaced with a whole grain mustard for a slightly milder version. If you don't like olive oil, feel free to substitute any other cooking oil. The same goes for the vinegar, if you don't like white wine vinegar you can use apple cider vinegar or rice vinegar instead.
Vinaigrettes can sometimes be difficult to make as it generally is hard to mix oil with other liquids. This normally require a lot of whisking. I found a "hack" a few years back where you can shake the vinaigrette together in a jar or plastic tub. It generally takes less than 30 seconds of shaking (although fairly intensely) for the emulsion to form. I strongly recommend this method as it will save you lots of time.
Boiling the perfect egg is a bit of an art. For me, the method i described in the recipe makes the perfect egg. Note that i use medium-large eggs so if you have smaller/larger you may need to experiment a bit with the cooking time to get a perfect result. Boiling the egg for 6,5 minutes gives it that perfectly cooked but still soft and creamy textured yolk.
For this recipe I went with canned tuna fillets in water as this is in my opinion a good balance. Its not mushy and horrible like the cheap flaked tuna in water. And it also doesn't hurt your wallet in the same way as a fresh tuna steak would. If you live in a place where fresh tuna is cheap and affordable i would highly recommend to go with that rather than the canned version. Or if you prefer, you can always get the tuna in oil if that is more to your liking than the kind in water.
I went with Kalamata olives for this dish as they are my favourite kind. You can substitute these with almost any other kind of olives (check the quantities in the MONASH FODMAP app), maybe even go for a mix of olives.
Are you looking for some inspiration for some other light and tasty summer salads?
Why not try out some of our other delicious summer recipes?
-Low FODMAP Greek salad
-Low FODMAP Potato salad
-Low FODMAP Quinoa salad
-Low FODMAP Pomegranate and Goats cheese salad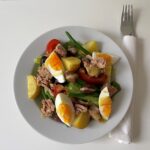 Print Recipe
Low FODMAP Tuna Niçoise salad
Low FODMAP twist on a classic Tuna Niçoise salad
Ingredients
Vinaigrette
1

tbsp

Dijon mustard

2

tbsp

White wine vinegar

3

tbsp

Olive oil

1/2

tsp

Salt

1/2

tsp

Black pepper
Salad
150

grams

Haricot vert

400

grams

New potatoes

4

Eggs

100

grams

Kalamata olives

150

grams

Lettuce

1

Tomato

2

cans

Tuna in water

160 grams x 2
Instructions
Cut the potatoes into quarters (or smaller if you prefer), boil in salted water for 20 minutes (or less if you cut it smaller). Put the haricot vert in the pot with the potatoes for the last couple of minutes to cook them.

Fill a pot of water and add the eggs, turn it to high heat. When the water comes to a boil turn the heat down to medium/medium high and set a timer for 6.5 minutes. When the time is up take the eggs out and put them in a bowl of cold water to stop the cooking process.

Wash and cut the lettuce into smaller bits. Cut the tomato into 12 wedges

Open and drain the cans of tuna

Add mustard, vinegar, oil, salt and pepper in a jar. Shake for 30 seconds until well combined.

Put the lettuce in a bowl and toss with a little bit of the vinaigrette. Place the lettuce on a plate or in a bowl and put the rest of the ingredients onto it. Pour the rest of the vinaigrette over the salad. Serve immediately.