Low FODMAP Chèvre and Pomegranate salad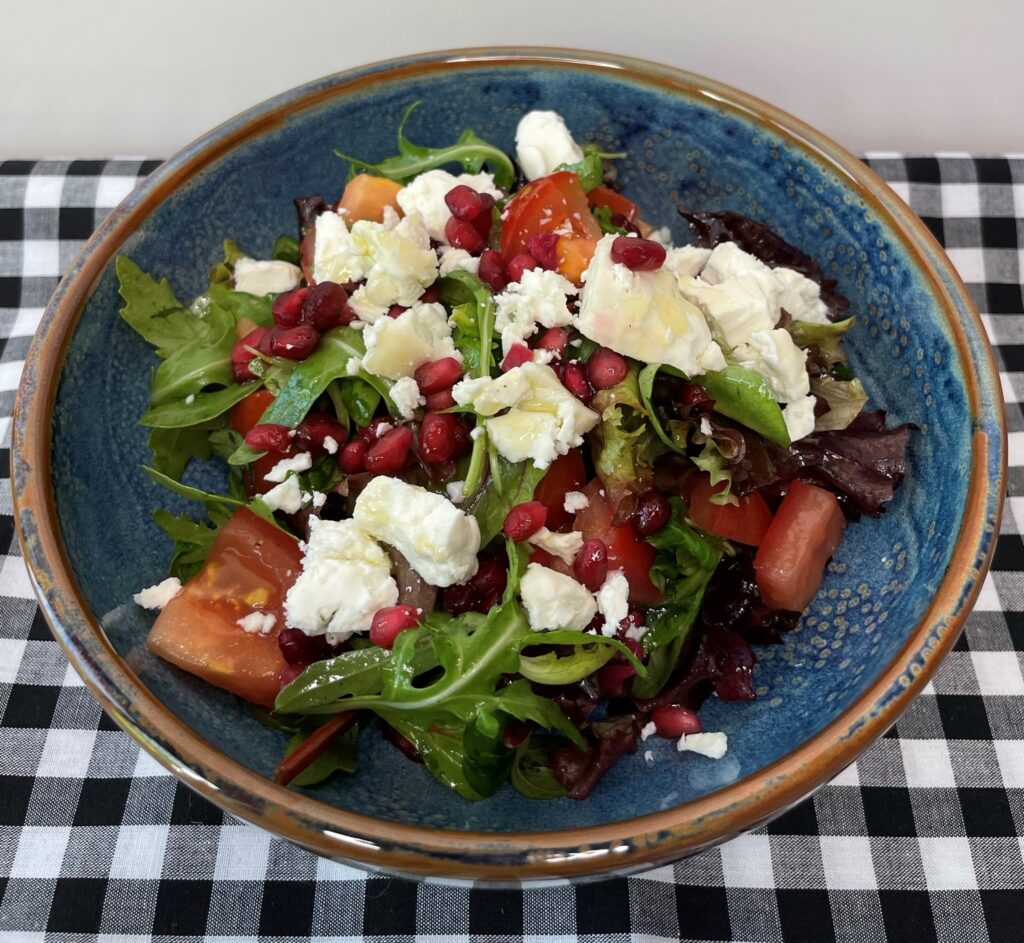 Who doesn't love a salad containing both cheese and fruit? This low FODMAP chèvre and pomegranate salad is a super healthy, nutritious summer salad just bursting with flavour.
These delightful little seeds add a nice boost of colour and flavour to your salads. A little goes quite a long way, but you can have up to 45 grams per portion, so this salad stays well below the FODMAP limit for fructans. One of the reasons I did this was as a fail safe in case the salad greens contain spinach (although you can have 75 grams of spinach before you might run into gut problems with stacking Fructans with the pomegranate seeds, and 75 grams is a lot of spinach!!). Also, I really don't think you need more than 40 grams of pomegranate seeds in the whole salad. If you want to check out more about the limits Monash has suggested, then check out their FODMAP App.
I just love chèvre. One of my all time favourite cheeses (which you might have noticed if you have looked through our other recipes). Creamy and tangy, it is a wonderful alternative to our other go-to salad cheese which is feta. Which, by the way, you could also use in this salad if you prefer to switch out the chèvre for something else. 
We used a relatively simple vinaigrette for this salad. We didn't want to overpower the flavour of the chèvre and pomegranate seeds, rather just freshen up the salad greens and add a little zing. You'll notice that we have opted for normal sugar in this vinaigrette rather than honey. Normally we love to use honey in our dressings and vinaigrettes. However, for this particular salad we have decided to add in tomatoes, which contain fructose. Unfortunately, so does honey. So as to avoid FODMAP stacking, we therefore decided to use sugar in the vinaigrette and avoid the problem altogether!
This is a great tip for your dressings and vinaigrettes by the way. You can usually switch in some maple syrup or normal sugar to replace the honey in a recipe. This will help keep your meals Low FODMAP! By all means, if you have started re-introducing fructose and are not super sensitive to it then go ahead and use honey in the dressing if you like! 
Why not check out some of our other summer salad recipes?
Print Recipe
Low FODMAP Chèvre and Pomegranate salad
A fresh fruity and tangy salad to liven up any meal.
Ingredients
100

grams

mixed salad leaves

40

grams

pomegranate seeds

1

tomato

max 130 grams

65

grams

chèvre cheese
Vinaigrette
2

tbsp

olive oil

1 1/2

tbsp

white balsamic vinegar

or apple cider vinegar

1

tbsp

sugar*

1

tsp

dried oregano
Instructions
For the vinaigrette
In a small container with a tight lid, add the oil, vinegar, sugar and oregano. Seal the container and shake the dressing vigourously. This is to get the oil and vinegar to form an emulsion.
For the salad
Chop the tomato and place them with the mixed leaves and pomegranate seeds into a salad bowl.

Toss the salad with about half of the vinaigrette.

Crumble the chèvre cheese on top of the salad and spoon some more vinaigrette over the top of the salad.
Notes
*Great tip for vinaigrettes: Many vinaigrettes use honey, which is also fine to use in this dressing! However you can only use 1 tsp of honey per portion as it is high in Fructose. Since we have a tomato in this salad (which also contains fructose) we decided to switch out the honey for sugar so as to be able to keep the tomato and still keep it Low FODMAP!