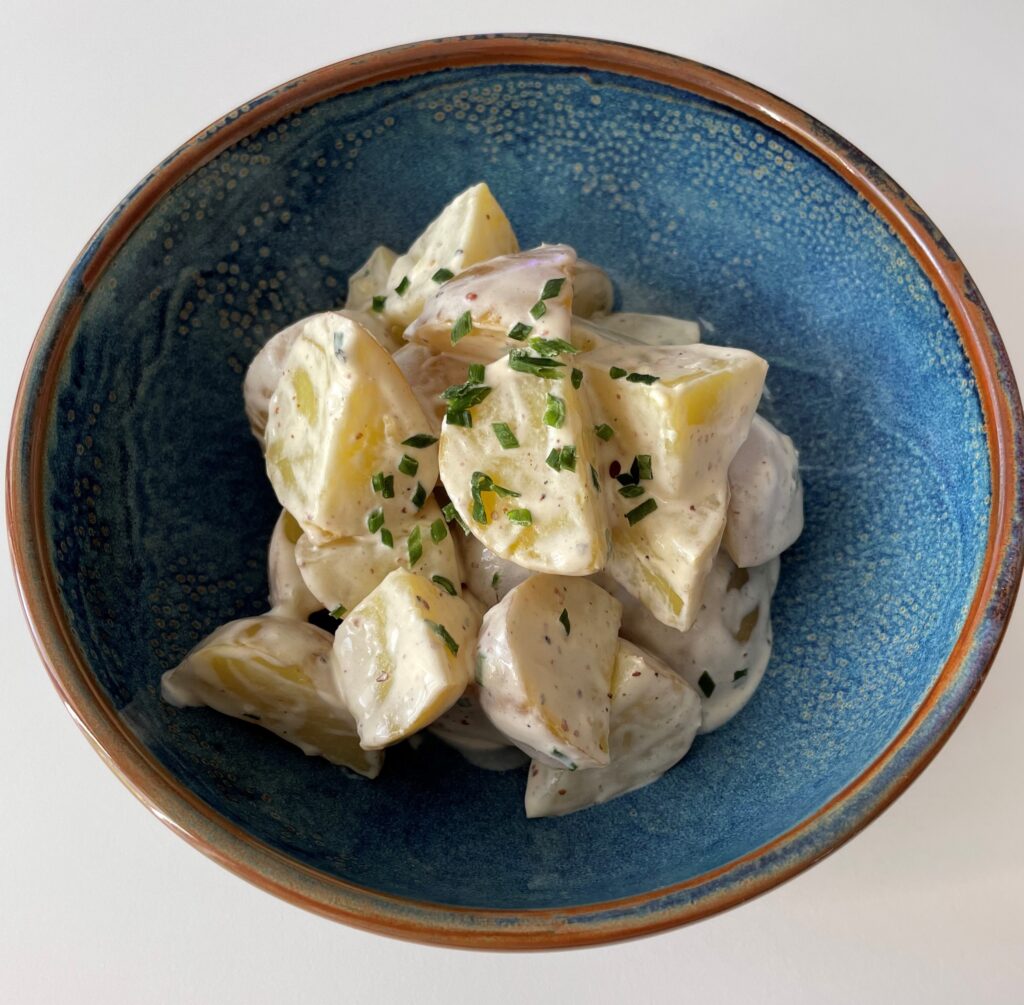 This light, but filling potato salad is a fantastic accompaniment to any BBQ (or summer dish). Not only is it is quick and simple, it is also cheap to make in bulk. This makes it perfect to scale up and take to your friends BBQ. 
One thing I really love about this potato salad is that, although it is filling, it is still fairly light. It isn't like all of those shop bought potato salads that are, lets face it, mostly mayonnaise and crème fraîche (with just a hint of potatoes). While those too can be tasty, this simple dish is a lot easier on the stomach, and on the calories. 
When starting the low FODMAP phase of the diet it can be depressing to think of all the gluten-filled dishes you can no longer eat. But did you know that potatoes are free from FODMAPs? According to the MONASH FODMAP app FODMAPs were not even detected in potatoes. This literally means you can eat as many as you like! So, as summer is coming up and the first summer potatoes are appearing, we thought it would be a perfect recipe to start off the season!  
Dressing the potato salad
The beauty of this potato salad is that making the dressing is almost as simple as just boiling potatoes. All it takes is to mix the ingredients in a bowl, don't forget to give it a taste and make sure its to your liking, and then tossing in the boiled potatoes.
This potato salad is perfect to make an extra large batch of to take with you to a barbeque or a picnic. It goes great with barbequed meats or with some cold cuts, bread and a leafy salad in a park for lunch.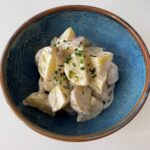 Print Recipe
Low FODMAP Poatato salad
Delicious tangy low FODMAP potato salad, a perfect side for a barbeque
Ingredients
500

grams

New potatoes

10

grams

Wholegrain mustard

1

tsp

apple cider vinegar

50

grams

Lactose Free Crème Fraîche

1

tbsp

Frozen chives

20

grams

Mayonnaise

1

pinch

salt and pepper to taste
Instructions
Quarter and boil the new potatoes in salted water for about 20 minutes. Let them cool, or rinse in cold water to cool the potatoes down.

In a bowl, mix together the Vinegar, chives, Crème Fraîche, mayonnaise and mustard. Add salt and pepper to taste. Add in the potatoes and mix around until everything is coated.
Notes
This potato salad can be stored in the fridge in an airtight container for up to 3 days (which makes it perfect for meal prepping lunches!)