Low FODMAP Pad Thai with Chicken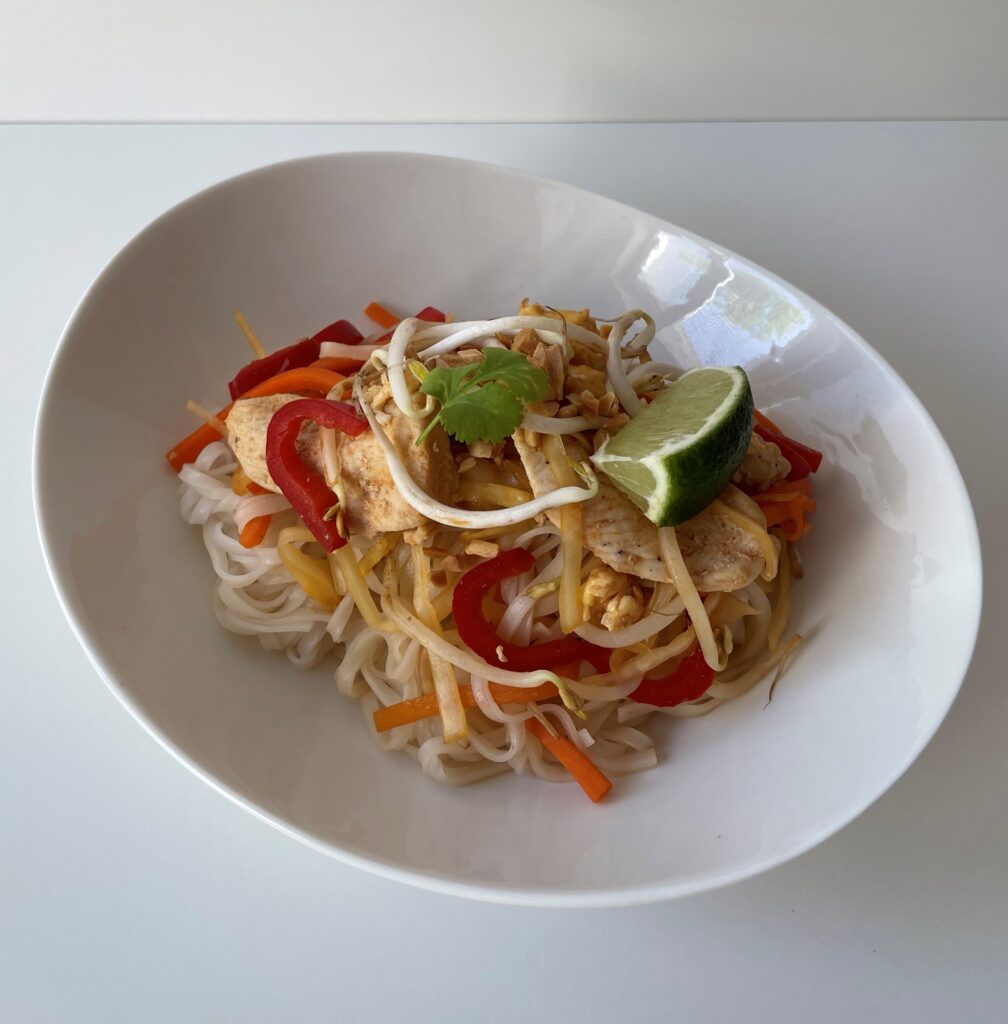 Who doesn't love a gigantic steaming bowl of Pad Thai? This Low  FODMAP recipe is incredibly moreish and is a perfect mid-week dinner meal that you can scale up to make extra for lunches, as it re-heats really well!
The base of this Pad Thai uses rice noodles. Much like rice itself, rice noodles are low in FODMAPs compared to their more common egg noodle counterpart. If you aren't super sensitive to Fructans then you can switch out the rice noodles for egg noodles (40g of egg noodles are the limit to keep it low FODMAP according to Monash FODMAP app).
This recipe uses cabbage.  This may make you scratch your head a bit as we know that cabbage in itself can be high FODMAP. However, for both common and red cabbage you can actually have 75 grams of cabbage and it is still low FODMAP! Anything above 75 grams risks having a moderate FODMAP content of Sorbitol, so make sure to stick to the recipe guidelines to keep it suitable for the first phase of the diet. Of course you can leave out the cabbage if you so wish, but it adds a lovely crunch to the dish. As well as this, our recipes try to at least include some FODMAPs (ie. they are not 100% FODMAP free). This is because we don't know the long term effects of excluding FODMAPs on the gut health yet. So it is wise to try to keep in at least some FODMAPs at low levels to give your gut bacteria something to munch on! 
This is what really makes the Pad Thai dish. Tamarind paste is one of the core ingredients in a Pad Thai. However this is not always super easy to get a hold of. In a pinch you can actually substitute it with tomato ketchup. This helps add in the tangy flavour that normally would come from the Tamarind paste, not quite the same but a good substitute.
We decided to stick to just chicken in our Pad Thai recipe. Many recipes use both chicken and prawns (which make another delicious addition to the dish). We decided to omit them from our recipe to keep the cost down as we have a little trouble sourcing prawns so they can be really expensive! Prawns, like other seafood and fish do not contain carbohydrates and are therefore FODMAP free, so feel free to add them in if you want to!
Of course, if you want to make the dish vegetarian you can substitute the chicken with tofu. Just make sure not to exceed 170 grams per portion (or 39 grams for silken tofu) to keep it Low FODMAP. 
Egg are great for any low FODMAP dish as they are FODMAP free and packed with protein. This means they are excellent for bulking up any dish for a low cost. Eggs are also traditionally a large part of the pad thai dish so make sure not to skimp here!
We decided to sprinkle a few peanuts on top of our Pad Thai for extra flavour. Anything below 28 grams per portion is regarded as low FODMAP. If you do sprinkle a few on top you should be well within those limits. We also added a few extra beansprouts on top for a little extra crunch. Add a wedge of lime to really make the dish pop!
Print Recipe
Low FODMAP Pad Thai
Our low FODMAP version of a Pad Thai
Ingredients
The main dish
200

Grams

Carrot

1 large

120

Grams

Red Pepper

140

Grams

Cabbage

100

Grams

Bean Sprouts

3

Eggs

1

Chicken breast

150-200 Grams

4

Portions

Rice Noodles

2

teaspoon

vegetable oil
Sauce
2

Tbsp

Tamarind Paste

See substitutes

2

Tbsp

Brown sugar

2

Tbsp

Fish sauce

1

tsp

Soy Sauce

1

Tbsp

White Wine Vinegar
Toppings
a few

Beansprouts

1

tbsp

Chopped peanuts

1

lime wedge
Instructions
Preparations
First matchstick the carrot, slice the cabbage and pepper into thin strips.

Cut the chicken breast into small strips, flavour with salt and pepper

Crack the eggs into a mug or bowl and whisk with a fork until well mixed.

Cook 4 portions of rice noodles according to the package, set aside.
Sauce
Make the sauce by combining the ingredients into a small bowl and set aside for later
Cooking Pad Thai
Heat a teaspoon of oil in a large frying pan over medium high heat. Add the carrot and fry for 3 minutes until slightly softened. Add the cabbage and peppers into the frying pan and cook for another 3 minutes on medium heat.

Remove the vegetables from the pan and put them in a bowl. Add another teaspoon of oil. Cook the chicken until fully cooked and slightly brown on the outside then put aside with the cooked vegetables.

Scramble the eggs in the pan then add in the cooked chicken and vegetables. Mix well and add most of the bean sprouts (save a few for topping the dish later)

Toss the cooked noodles into the pan and pour in the pad thai sauce. Cook on medium low heat for 1-2 minutes until all ingredients are warmed up again.

Plate the Pad Thai and sprinkle some Beansprouts, Chopped peanut and squeeze a lime wedge over the dish.
Notes
If you don't have tamarind paste you can use some ketchup for a similar effect.