Low FODMAP Filet Mignon Pasta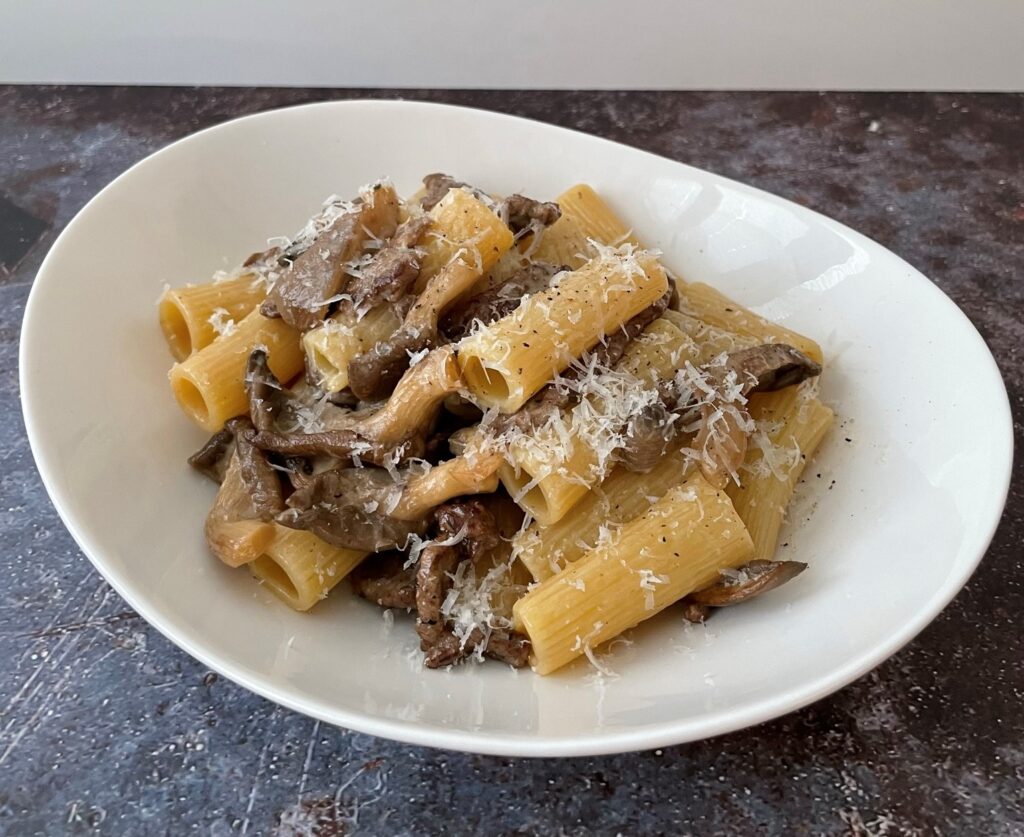 Looking for a delicious and quick dinner? Try our Low FODMAP filet mignon pasta recipe! Made with gluten-free pasta and a flavourful filet mignon steak, this dish is perfect when you want a nice comforting meal. Learn how to make this dish and discover other Low FODMAP recipes here.
If you are using the Monash FODMAP App. You might know that mushrooms are nearly impossible to fit into your diet, or at least in a quantity where you will be able to enjoy it. The key to being able to include mushrooms  on the Low FODMAP diet is to use oyster mushrooms. You can have 75 grams per serving (accurate as of 2023-01-29), which allows you to get those nice big bits of mushroom in your meal.
This recipe uses Filet Mignon (fillet steak or tenderloin, depending on where you are from.). It is a very pricy cut of beef, but the lean and tender nature of the beef does add a lot to the dish. It could however be substituted with a lower grade cut of beef, but still preferably a steak grade cut such as sirloin or ribeye.
The flavour of the cheese really stands out in this meal. I recommend you using the highest quality parmesan cheese that you can get a hold of. Since this recipe uses a slightly more expensive cut of beef and variety of mushrooms, it wouldn't make sense to go for a low quality cheese.  Many firm cheeses are naturally low in lactose meaning you can eat a fairly large portion of them without having to worry about the FODMAP content.
Cooking pasta may vary a fair bit depending on producer and the shape of the pasta. Gluten free varieties can also go quite mushy if they are overcooked. That's why i recommend to cook the pasta 1-2 minutes less than the packaging instructions and letting them finish cooking in the sauce.
Simply bring a pot of salted water to a rolling boil, add in the pasta and cook 1-2 minutes less than the package says. Before draining the pasta set aside around 200 ml of water in a mug, this will be used to help get the right thickness of the sauce.
Preparing beef and mushrooms
Slice then beef in thin strips, this will help it cook quicker to avoid it drying out. It is also important to cut all the beef into similar sizes to prevent the thinner ones overcooking. 
Many people say you shouldn't wash mushrooms because they will lose texture and flavour from it. Myself on the other hand would rather lose that little bit of flavour in return for having clean and dirt free mushrooms. It is up to you if you prefer to brush the mushrooms or give them a good rinse, either way works just fine.
Cut the mushrooms into smaller bits, but ideally leave them around the same size as you cut the steak. I do love biting into a large piece of mushroom when eating this type of pasta. There is something incredible about a nicely cooked mushroom in a creamy sauce.
Sear the mushrooms over medium high heat in a little bit of oil, towards the end of the cooking you can sprinkle on a pinch of salt and pepper to flavour it. Remove the mushrooms and then add in the beef, you can add a splash more oil if the pan is dry. After cooking the beef you should be left with a lovely fond in the bottom of the pan, this will be deglazed in the next step and bring a whole lot of flavour to the sauce. 
White wine is fantastic to use for deglazing the pan, the alcohol will cook off so there is no need to worry (just make sure to cook the wine until its reduced by half). But if you don't have any wine at hand, or are from a household that chooses not to drink then I will suggest some alternatives for you. You can just substitute the wine with about 50ml of water and a splash of apple cider vinegar instead. This should still give you that fresh touch of acid that you would get from a dry white wine. You may have to scale up the salt & pepper or a tiny bit more stock to compensate for the extra water.
Deglaze the pan with the wine, or substitute, and toss in a stock cube. After the wine is reduced by about half you can add in the cream and about 2/3 of the pasta water (in case you need more, and its easier to add than to remove from the sauce). Bring it up to a gentle simmer and add in 50 grams of grated parmesan. Add salt and pepper to taste.
Let the sauce cook until slightly reduced and thickened, around 3-5 minutes on medium/ medium low heat. Add the beef and mushrooms back in and make sure to include any juices that may be left behind in the bowl.
Add your pasta in to the sauce and let cook for another minute until its finished cooking. Top with some fresh black pepper and a little more parmesan, serve with a nice salad and a drink you enjoy (Perhaps a glass of the wine you used for cooking the dish). 
If you liked this recipe, you should check these out.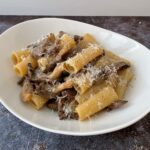 Print Recipe
Low FODMAP Filet Mignon Pasta
Fantastic and creamy pasta with filet mignon and oyster mushrooms
Ingredients
200

grams

Filet Mignon

150

grams

Oyster Mushrooms

50

grams

Parmesan Cheese

150

ml

Lactose Free Cream

1

Low FODMAP stock Cube

200

ml

Pasta water

4

portions

Gluten Free Pasta of your choice

50

ml

White wine
Instructions
Bring a pot of salted water to a boil and add the pasta of your choice. Cook according to the package instructions, but remove 1 minute before its done. Reserve 200mL of the pasta water for the sauce.

Slice the beef into thin strips. Cut and clean the mushrooms to get rid of any dirt.

Fry the mushrooms over medium high heat with a little bit of oil for about 5 minutes until nice and golden. Set aside and add the beef to the pan, fry for another 2 minutes until the beef is cooked. Set the beef aside too.

Pour 50mL of white wine and toss a stock cube into the pan. Deglaze until you have a nice sauce in the pan. Add in 150mL of lactose free heavy cream and 200mL of pasta water.

Grate and add in 50 grams of parmesan to the sauce. Crack in some black pepper and add a pinch of salt to taste.

Cook until slightly reduced, about 3-4 minutes on medium low heat. Return all the mushrooms and beef to the pan. Add the pasta to the pan, and let it finish cooking for a minute or two in the sauce.

Serve with some extra grated parmesan and a crack of black pepper on top.