Low FODMAP Spaghetti Carbonara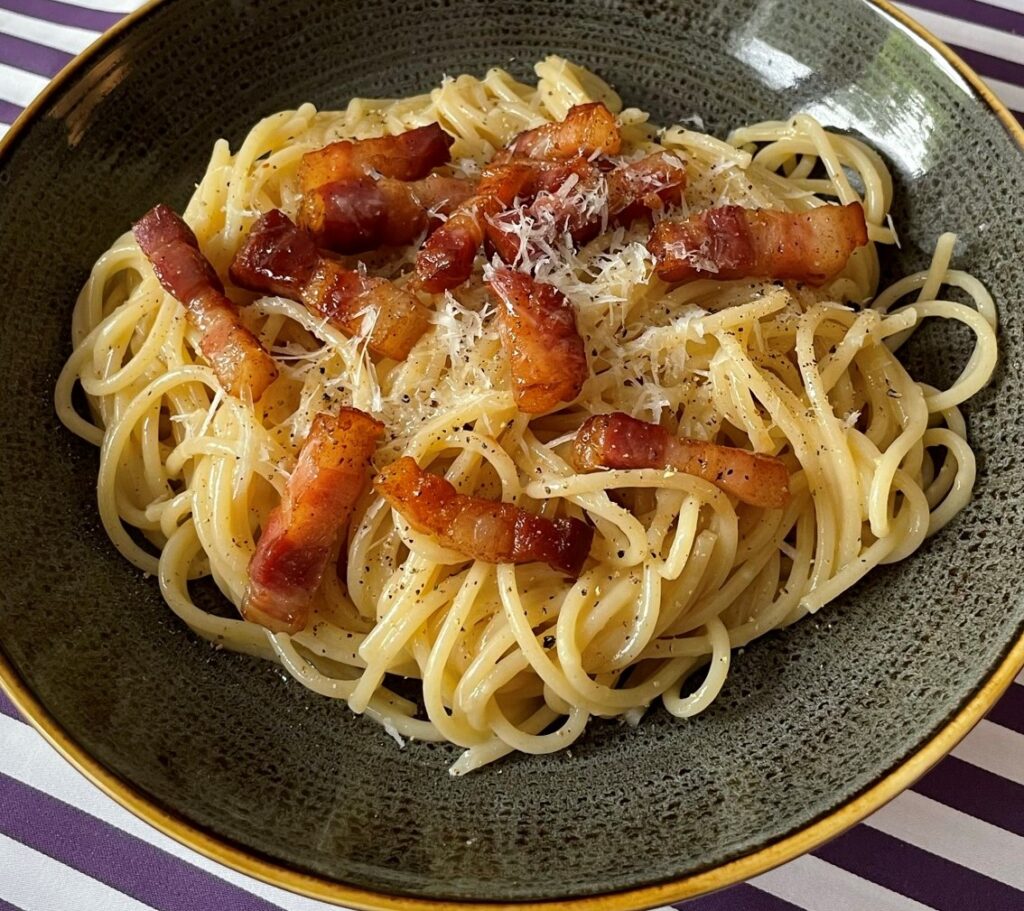 Don't we all just love a carbonara? This is how I make my Low FODMAP variant of the classic dish. With surprisingly few variations from the authentic Italian recipe.
Try to get the best quality gluten free pasta you can, it really makes a difference in this dish. Don't forget to check that your pasta is low FODMAP according to MONASH FODMAP
Traditional carbonara only uses 5 ingredients, none of which is cream. In a carbonara you would use Pecorino Romano, Eggs, Black Pepper, Guanciale and a high quality Wheat Pasta.
My variant is only different in two ways. I use a gluten free pasta and Panchetta instead of Guanciale. Guanciale can be hard to get a hold of outside of Italy, this is why i have substituted this with a more common type of meat. If you also struggle to get a hold of panchetta you could use bacon instead.
A carbonara is actually a fairly simple dish but it has a few key moments that could easily ruin the dish unless you are careful. It basically comes down to: Don't overcook your pasta and Temperature control (because you do not want scrambled eggs).
Cooking the pasta should be relatively simple, just make sure to read the package instructions for how long it needs. Make sure to not go over the time as the pasta will be too soft and you will just break the pasta apart trying to toss it in the sauce. Perhaps you could even try to cook the pasta 1 minute less than the packaging says and have it al dente like the Italians would.
Too high temperature is the eggs worst enemy. Nothing is worse than an egg scrambling in your sauces because the temperature was too high. It is heartbreaking to spend a lot of time on a nice hollandaise sauce only to have it break into tiny little pieces of scrambled eggs floating in a pot of butter. I have put in two measures to prevent scrambling the eggs in this recipe.
 The first being mixing the carbonara in a metal/glas bowl to not have any residual heat in a frying pan risk ruining the dish. There will still be plenty of heat in the pasta and the added pasta water to melt the cheese.
The second preventative measure being that we are tempering the eggs by adding the pasta water into the "carbonara slurry" little by little to slowly bring the temperature of the eggs up past the point they would scramble.
Make sure to check out these recipes too:
Print Recipe
Low FODMAP Carbonara
This is a very close to authentic carbonara, but made to be suitable for a low fodmap diet.
Ingredients
4

Eggs

250

Grams

Gluten Free Pasta

50

Grams

Pecorino Romano Cheese

150

Grams

Panchetta

Guanciale if you have it

Freshly Ground Black Pepper

100

ml

Pasta Water
Instructions
Bring a large pot of salted water to a boil.

Cut the panchetta 1cm strips and put in a frying pan over medium heat. Fry for about 10 minutes. At the same time add the pasta to the pot of boiling water and cook according to package instructions (~10 minutes)

Separate the egg whites from the yolks in 3 of the eggs, grate the pecorino on the finest side of a grater.

Place 3 yolks + 1 whole egg in a heat proof bowl (glass or metal). Add the grated cheese (save a pinch for topping) and crack in a few twists of black pepper. Stir the mixture until well combined.

Reserve about 100ml of pasta water just before the pasta is finished. Slowly drizzle about half of the pasta water into the egg mixture while whisking. This is to temper the eggs to prevent them from scrambling when getting in contact with the hot pasta.

Take the pasta out of the pot of boiling water and transfer into the bowl. Stir the pasta until the sauce is nice and creamy and coating everything. Then toss in the fried bits of panchetta and mix them in. If you find that the sauce is a bit too firm you can add some more of the pasta water a little at a time until the sauce is to your liking.

Serve in a bowl with some grated pecorino and freshly cracked black pepper on top.