My low FODMAP Bolognese Sauce
This low FODMAP Bolognese has been one of the staple foods for us since switching to a low FODMAP lifestyle. It only makes sense for this to be the first recipe we post on the website. The dish is very versatile and can be adjusted to fit almost any taste. 
Meat naturally lacks FODMAPs making it great to eat in any phase of the FODMAP diet. This recipe contains beef as it is my personal favourite protein and the flavour goes perfectly with the sauce. You can of course substitute this with a long list of other types of meats such as chicken, turkey or pork depending on your preference. Vegetarian/Vegan options are also available, just be sure to check the FODMAP content with the MONASH University's FODMAP App.
Olive oil is one of my favourite oils, its is a very versatile all-round oil that can be used both for cooking and dressing fora  salad. The only downside with olive oil is that it might not be great for baking as it has a fairly strong flavour. If you are looking to only buy one oil I would recommend a neutral oil (such as vegetable or sunflower) which can be used for both cooking and baking. These oils are all great for making your own onion/garlic flavoured oils, which is a great way to get the flavour without adding the FODMAPS.
The herbs and spices for this recipe can be substituted with a large number of dried herbs (such as thyme, sage or rosemary) depending on your preference. My favourite ones are Oregano and Basil as they give a balanced flavour profile. You can also add fresh herbs if you have some, just make sure to check the quantities in the MONASH FODMAP app.
Balsamic vinegar is one of the main elements that brings flavour and balance to the dish. Alongside the stock cube, or even better home made beef/vegetable stock, this brings a full deep flavour to the dish. If balsamic vinegar isn't your thing I would recommend adding soy sauce instead, just make sure to only put in half as much as you would of the balsamic. Soy sauce will add a similar umami depth of flavour to the dish, just adjust the salt you add to the dish, as soy sauce is very salty. If you like it and feel a bit experimental I recommend adding 50ml of red wine to the dish for extra flavour, just make sure to add it early enough (step 3) to cook off any alcohol.
The building blocks of the sauce are tomatoes and tomato Puree. According to new recommendations (06/03-22) from Monash FODMAP you should not have more than 100 grams of canned tomatoes per serving to keep it low FODMAP. The recommended serving size of tomato puree (28 grams) is also low FODMAP. Keeping this in mind the recipe comes in at 66,6 grams of canned tomatoes and 5 grams of puree per portion, keeping both well below the recommended quantities.
Carrots are one of the foods that are FODMAP free. This means that if you are a fan you can add as much as you want to this dish. I went with a moderate 120 grams as I found that to be a good balance to the rest of the ingredients on the sauce, but if you are a lover of carrots there is nothing stopping you from adding another carrot to the dish. Adding more carrot would also help bulk up the volume of food for a low cost, this would be helpful if you are cooking the sauce as a cheap and easy meal prep for the week.
Carbs to go with the sauce
This sauce is perfect to be served with either pasta or rice. As far as pasta goes it is recommended to use a gluten free variant as they are low in FODMAPs (normal serving, 145 grams). If you are like me and find it hard to adjust to the gluten free variant, a serving of 74 grams of wheat pasta is low in FODMAP according to Monash. As this will be a smaller portion I recommend making a salad or steaming/boiling some low fodmap vegetables for a side dish.
Rice is a great alternative as it is a no-FODMAP carb, perfect for the days you are extra hungry and want a larger portion. Or if you simply don't love pasta as much as the rest of us!
Make sure to check out these recipes too: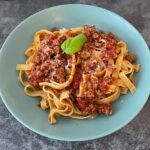 Print Recipe
Low FODMAP Bolognese
A quick and easy low FODMAP bolognese. Perfect for weeknight dinners or for the weekly lunch prep.
Ingredients
450

Grams

Ground Beef (1 lb)

Sub: Turkey,Chicken or Low FODMAP Vegetarian option

1

tbsp

Olive Oil

1

tsp

Dried Oregano

1

tsp

Dried Basil

1

tbsp

Balsamic Vinegar

1

Large

Carrot

120 Grams

30

Grams

Tomato Puree

1

Can

Crushed Tomatoes

400 Grams

1

Cube

Low FODMAP Stock

Sub: Home made Low FODMAP Beef/Vegetable stock

400

ml

Water

Salt & Pepper to taste

1

Serving

Cooked rice/pasta
Instructions
Peel and grate the carrot on the coarse side of a box grater, set aside for later.

Pre heat a frying pan to medium high heat and add half of the oil. Add the ground beef and fry until nice and browned, season with salt and pepper. Remove the cooked beef from the pan.

Add the other half of the oil to the pan and bring it back to a medium high heat. Add the tomato puree and fry for 1 minute to bring out all the flavours. Add the grated carrots, turn the heat down to medium, and fry for 3 minutes until softened.

Add the can of crushed tomatoes, stock cube and 400ml of water, then bring to a boil. Once boiling add the Dried Basil & Oregano and Balsamic Vinegar and reduce heat to medium low.

Simmer for 15 minutes on medium low heat. (This is a good time to cook pasta or rice). Towards the end of the 15 minutes taste the sauce and add some more seasonings if needed.
Notes
Variations
If you like the taste of garlic feel free to replace the oil with a low FODMAP garlic oil.
If it is to your liking you can add 50ml of red wine at the end of step 3 and let it reduce down for a couple of minutes.
I recommend grating a little bit of parmesan cheese over the top before serving this dish.