Low FODMAP Tuna poke bowl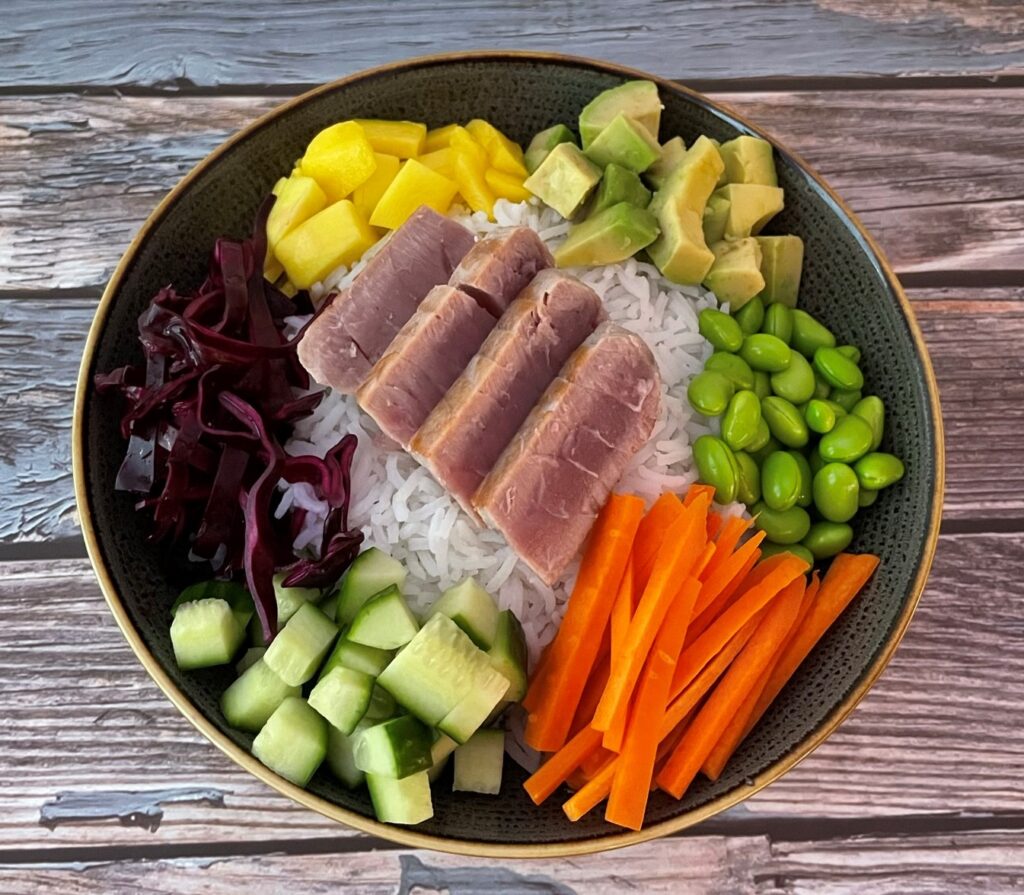 Clean, colourful and healthy, this Low FODMAP tuna poke bowl is not only a treat for the eyes but it is super yummy and very friendly on the tummy! 
During the summer we love to ditch the heavy sauces and warming soups, and trade them in for lighter and fresher salads and bowls. These bowls are so versatile, you can build them out of almost anything. This is especially great when there is so much delicious fresh produce at this time of year. 
Poke bowls originate from Hawaii and contain diced raw fish (disclaimer: we didn't want to completely ruin our overly expensive tuna steaks by dicing them, so we sliced!). Most commonly they use ahi tuna, but many variations exist, as these are becoming more and more popular.
We have fallen into the trap of eating a lot of meat. This is quite easy to do since it is one of the few things you don't really need to think about on the Low FODMAP phase of the diet. Since all un-processed meat is free from FODMAPs it is easy to shove it into every meal as a way to fill yourself up. Nothing wrong with that! However, if you're like me then you can easily forget about fish. 
Fresh tuna steaks are an absolute luxury here for us. They are difficult to come by, so when we can get our hands on them we try to do as many fun things with them as we can. They are basically the meatiest fish you can get. So if you're not a fan of fish but haven't tried a tuna steak, do it! Definitely worth it! To use tuna raw in the dish as intended then they need to come from a reputable place and be sushi or sashimi-grade. We weren't super sure about ours which is why we seared the outside (cheating slightly!) but still absolutely delicious nonetheless.
That being said. Not everyone likes, or can get a hold of tuna steaks. Poke bowls are very individual and you can make endless combinations. It is of course a little harder playing around with the vegetables since those are where the FODMAPs are, so why not play around with the protein instead? Salmon is also very popular, which is often easier to source then tuna. The bowls can even be made vegan if you switch out the fish with cubes of tofu. But, honestly, if you can get sushi-grade tuna  for this dish, we promise you won't regret it
Colourful vegetables and fruits
Poke bowls need lots of colour! They are a feast for the eyes and the stomach! This can be a little tricky when following the Low FODMAP phase of the diet. Pro tip: put carrots in everything. Cooked, raw, roasted or pureed, they add colour to anything and are FODMAP free. Cucumber is also FODMAP free and adds great colour and freshness. 
After that it is good to try to find elements that belong to different FODMAP groups. We chose some mango to add a little sweetness to the dish, avocado to add some creaminess. The edamame beans were for extra colour and well, because we love them!
Get creative with your vegetables. Even if they belong to the same FODMAP group, check out the limits you can have. For example according to Monash, red cabbage allows for 75 grams at a green serve, which is a huge amount (by the by, check out their FODMAP App). We have only used 30 grams per portion in this recipe, which was still a large amount for this meal. Therefore we were also able to use a half green serve of edamame beans too, even though they belong to the same FODMAP group! 
Looking for more inspiration?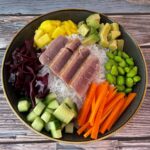 Print Recipe
Low FODMAP Tuna Poke bowl
This fresh bowl is a perfect lunch or dinner when you are looking for something healthy
Ingredients
150

grams

mango

1

avocado

2

medium

carrots

160

grams

edamame

1/2

cucumber

250

grams

tuna steak

120

grams

red cabbage

200

grams

white rice

(uncooked weight)

1

tbsp

olive oil
Instructions
In a large saucepan cook the rice according to the instructions on the packaging.

While the rice is cooking, begin cutting the avocado and cabbage into slices, julienne the carrots, and cube the mango and cucumber.

If you're using frozen edamame, thaw them in a mug of hot water.

Bring a small frying pan to a high heat with a the olive oil. Sear the tuna for 1 minute each side for a rare steak (or longer depending on your preference), turn the heat off and move the pan to the side. Leaving the tuna to stay warm while preparing the bowl.

Drain the rice and split between 4 bowls.

Place the cucumber, carrot, edamame, mango, cabbage, avocado around the edges of the bowls. It looks better if you seperate out the colours if you can!

Take the tuna off the heat and slice on a chopping board. Place across the middle of the bowls.

If you feel like it you can drizzle a little lemon/lime juice or soy sauce over the top of the bowl (if you're going for either fresh or asian inspired flavours).