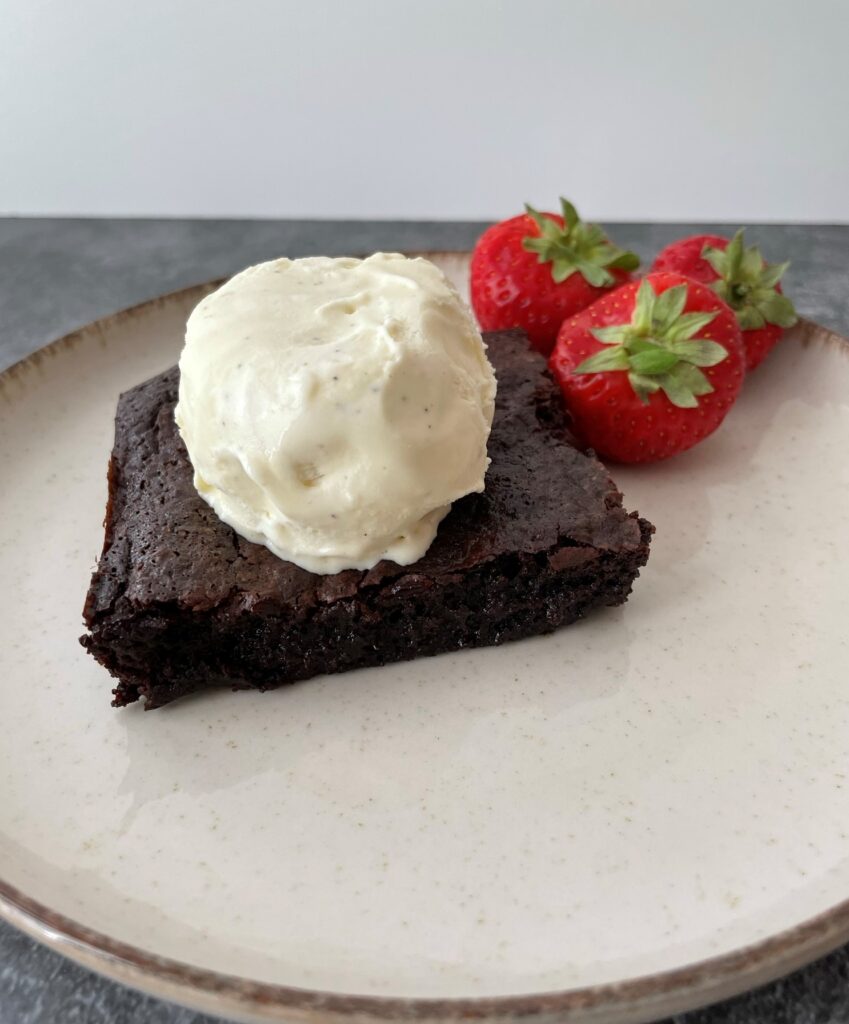 I'm just going to go ahead and state that brownies are one of the best desserts you can eat. They are simple to make but are so very flavourful, creamy and delicious.
You can serve a brownie as a dessert after just about any main course and it will still be a fantastic experience that rounds off the meal.
Serve along side some whipped cream or ice cream and finish with a few pieces of whatever fresh fruit you have on hand (or perhaps even a fruit coulis).
It is hard to fail a brownie unless you were to over bake it or end up with lumps of flour. That being said, you can still do a few simple things to increase the taste of the brownie. Make sure to use a high quality cocoa powder and vanilla extract.
Investing in some high quality natural vanilla extract. Sure it is cheaper to buy the chemical tasting vanilla essence that is artificially produced, but it wont be anywhere near as good. Same goes for the cocoa powder, buy the slightly fancier versions and not the supermarkets cheaper brands. Going one step higher in the quality will greatly improve the flavour depth of the chocolate. Adding a pinch of salt will really tie the whole thing together as well.
Gluten free flour can be a bit tricky to navigate. Many recipes just call for a gluten free flour mix without specifying a brand or what ingredients it has. Its not the actual gluten that makes flour high FODMAP, it is actually the sugars? in the wheat. I used a gluten free flour mix from a brand called semper, they work closely with Fodmap Friendly to certify their products.
This brownie recipe is a little different from some other traditional recipes out there. Instead of melting the butter before hand we instead mix the sugar, butter and cocoa in a pan and melt it all together until the sugar dissolves. If you are worried about burning the mixture you can always make a double boiler. Pour about 1 inch of water in a saucepan and bring to a gentle simmer. Place a metal or glass bowl over top of the simmering water (without touching the water). This makes it much easier to control the heat as it rises much slower than it would with direct contact with the stove top.
Apart from melting the ingredients together the rest of the recipe is fairly straight forward. I just want to stress the fact that the mixture needs to cool down for 5-10 minutes before you add the eggs in. This is of course to prevent scrambling the eggs and ruining the whole batch of brownies.
Make sure to not over mix the brownie mixture when adding in the flour. This can make the brownie much more dense than you might want it. Just carefully fold the flour in with a spatula until you no longer see any flour remaining.
A smart way to get the parchment paper to stay in place in pan is to crumple it up and stretch it out again before placing it into the pan. This does for some reason make it much easier to press into the corners to get a more even result.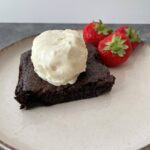 Print Recipe
Low FODMAP Brownies
Fantastic rich and fudgy brownies
Ingredients
150

Grams

Butter

240

Grams

Caster Sugar

80

Grams

Cocoa Powder

1

tsp

Vanilla Extract/Essence

2

Large Eggs

70

Grams

Gluten Free AP Flour Mix

1

Pinch

Salt
Instructions
Pre heat the oven to 165C (~330F). Line a baking pan with parchment paper, making sure it goes up the side a bit to leave you with something to grip when pulling the brownies out.

Combine the sugar, butter, salt and cocoa powder in a saucepan. Put the saucepan over a medium-low heat and stir frequently until the sugar dissolves. If you are worried about burning the ingredients you can do it over a double boiler instead.

Let the mixture cool for 5-10 minutes. Transfer the mixture into a bowl and then mix in the 2 eggs. The rest time is to prevent the eggs from scrambling.

Sift the flour in to the bowl to avoid lumps. Gently fold the flour into the brownie mixture being careful to not over mix. Stop when you no longer see any flour.

Crumple up a sheet of parchment paper and then stretch it out again and put into a rectangular or square pan. I used a rectangular 32x19cm (12,5x7,5 inch) ceramic pan. Use something with similar dimension, or adjust the baking time a bit depending on the size.

Bake in the middle of the oven for around 20-25 minutes, on the shorter end for a softer brownie and towards the higher end for a chewier kind.

Let cool before removing from the pan. Cut into 6-8 pieces and serve with some fresh cut fruit and lactose free cream/ice cream.