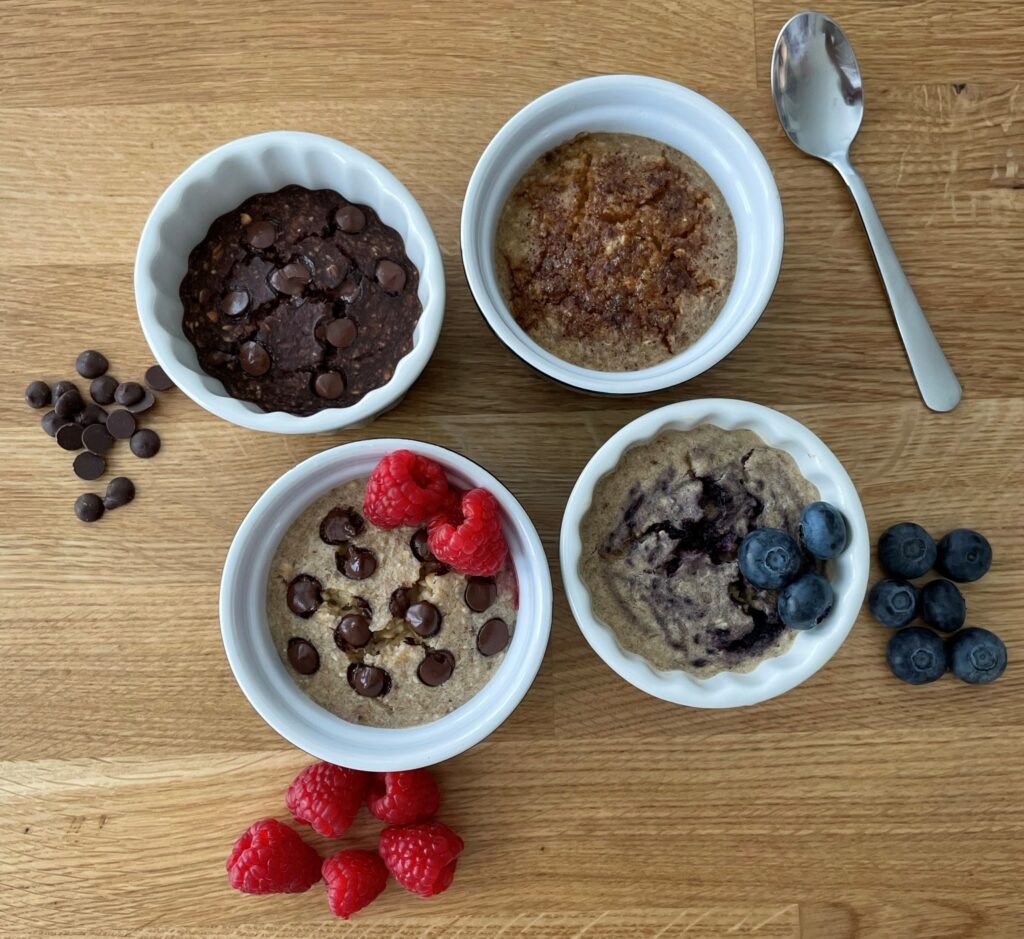 I had not heard of baked oats until quite recently. It was something I stumbled upon on Instagram and just needed to make it! It is one of the most delicious way of eating oats, and super easy to keep low FODMAP.
We have decided to try a bunch of different baked oat combinations and have compiled a list of our favourite low FODMAP flavours.
This recipe is a lot easier to make if you have a blender or a food processor available. It can however be made without those tools too, but it will be a little more "rustic" as you wont be able to blend the ingredients down into as fine of a paste.
You can experiment with a lot of different flavours blended into the base itself, rather than adding them in at the later stage when pouring the mixture into the ramekins. Some examples of this being adding peanut butter or cocoa powder to the mixture as we do in a couple of the flavour combinations.
The traditional, and in our opinion, best method is to bake the oats in the oven. Sure it does take a little bit longer than just popping them in the microwave, but the texture is so much nicer when you bake it in the oven. 
The method is as simple as pouring the mixture into small ramekins and baking them for about 15-20 minutes. Just let them cool for a couple of minutes before trying to eat them as they will be very hot (close to lava).
Baking in the microwave is a quicker and more convenient way of doing it. The texture will not be as nice but perhaps you are in a hurry or simply just don't care. Either way, all you need to do is pour the batter and flavourings of your choosing into a microwave safe container and bake for 3-5 minutes (depending on your microwave) on the highest heat.
You could also bake a larger tray of the oats in one go and then simply scoop it into bowls as and when you wish to eat it. This is a great way if you don't have a bunch of ramekins available at home. We have not tried this method in the microwave so we cannot say if it would turn out well or not. It does however work perfectly fine in the oven, just bake them a few minutes longer than the individual cups.
These are some of our favourite flavour combinations:
Brown Sugar & Peanut Butter
Dark Chocolate & Raspberry Compote
Blueberry Compote
Double Chocolate
Only the imagination will stop you when it comes to finding tasty flavour combinations. Just be sure to double check the FODMAP content with the Monash FODMAP App.
You should check out our other oat based recipes: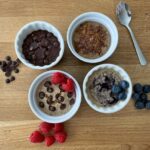 Print Recipe
Low FODMAP Baked Oats
As close as it gets to eating cake for breakfast
Ingredients
Base Recipe
1

Unripe Banana

200

ML

Milk

lactose free

200

ML

Oats

2

Tbsp

Maple Syrup

1

Tsp

Baking Powder

1

Pinch

Salt
Flavourings
20

Grams

Blueberries

1

Tsp

Cocoa Powder

12

Grams

Dark Chocolate Chips

1

Tbsp

Peanut Butter

1

Tsp

Brown Sugar

20

Grams

Raspberries
Instructions
Base Recipe
Put oats, milk, banana, salt, baking powder in a food processor or blender. Blitz until all ingredients are well combined.

Pour 50ml of batter into a ramekin and add desired filling before pouring the other 50ml in on top. Repeat 4 times until all batter is used up. Top with chocolate chips or some brown sugar for a nice surface.

Place in a 175C oven for 15-20 minutes depending on the oven, until they look baked and the top has started to crack a little bit.
Flavouring combinations
Brown Sugar and Peanut Butter: Stir in the peanut butter in the oat base and top with brown sugar

Blueberry Compote: Cook down 20G of blueberries with 1 tbsp of sugar or maple syrup. Add half the oat base to the ramekin, add in the filling and then add the rest of the oat base.

Double Chocolate: Mix in cocoa powder in the oat base and top with chocolate chips.

Raspberry Compote + Chocolate Chip: Cook down 20G of raspberries with 1 tbsp of sugar or maple syrup. Add half the oat base to the ramekin, add in the filling and then add the rest of the oat base. Top with chocolate chips.