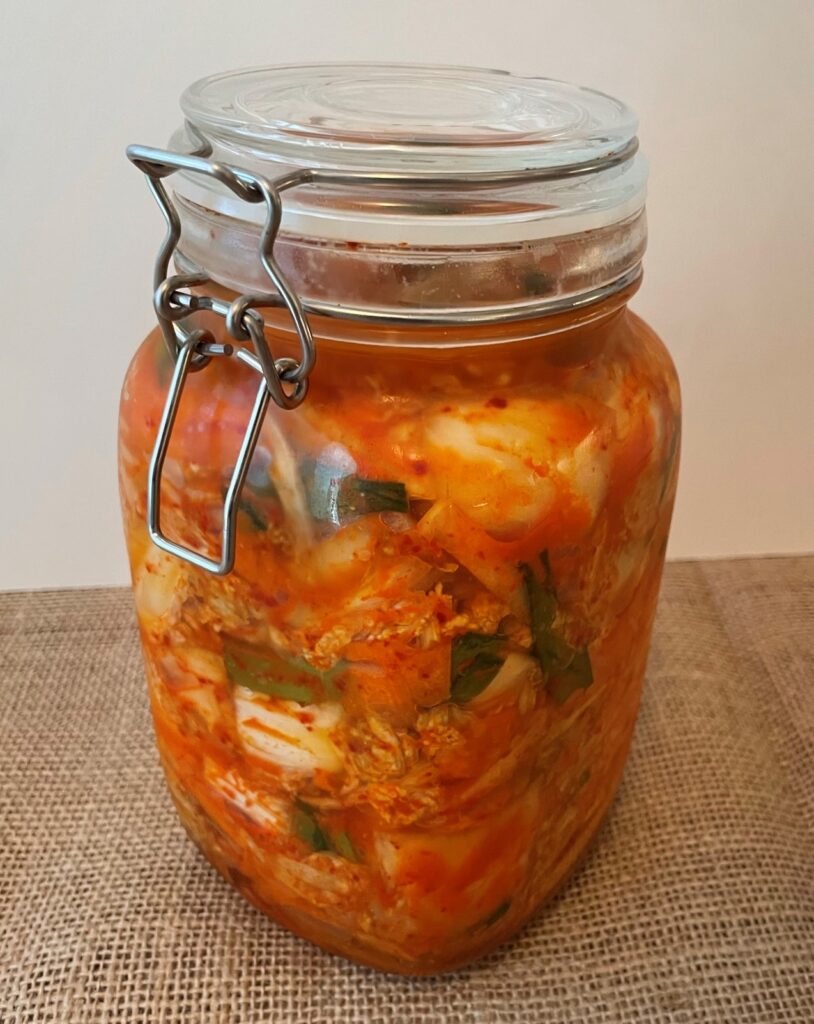 Kimchi is one of the staples of Korean cooking. Normally it would contain a fair few ingredients that are high fodmap. I have made a low fodmap version that excludes things such as onion and garlic.
I have experimented with a few different types of kimchi to try to find a flavourful, but still low FODMAP version. With this recipe I have found what I think is the best version. 
I have included a pinch of MSG as the magic ingredient that ties the whole thing together. Adding MSG gives it a full and savoury flavour which is very hard to achieve if you are unable to add ingredients that naturally contain MSG, such as onions.
Kimchi does depend more on the chili paste/sauce for the flavouring than the actual vegetables. You can kimchi ferment almost any vegetables. Cabbage happens to be a good one as it tends to ferment well and really soak in the flavour of whatever brine/sauce it is left in. The downside with using cabbage is that you will have an upper limit of how much you can eat before FODMAPs become a problem (75 Grams per serving).  
If you wanted to make a NO-FODMAP kimchi I would suggest you to use vegetables such as Radishes, Carrots and Cucumbers. You can eat as much as you want of these vegetables without having to think of FODMAPs. The only thing would be that you do use a little bit of miso paste/soy sauce/honey which do contain some FODMAPS (for more about the allowed serving sizes for these ingredients then check out Monash's FODMAP App). However, unless you eat the entire jar you shouldn't need to worry. 
What makes kimchi stand out from other fermented vegetables is the iconic spicy red brine that is used. Making the sauce is as simple as just mixing all the ingredients into a bowl. It may look a bit dry to start with but when you are packing it down into the jar you will get some of the water from the cabbage seeping out, adding to the volume of brine in the jar. Make sure to pack it down as hard as possible, don't leave any pockets of air in the jar at all.
When you ferment things you pretty much only need to keep 2 things in mind. Make sure everything is clean and preferably sterilized, also make sure to prevent gas build up to not have kimchi explosions. 
When you have placed all the vegetables into the jar you need to make sure its all submerged in the brine. If any part of the vegetables stick up you might run into a mould problem, if this happens you need to dump the contents of the jar and start over. I have personally never run into this issue myself so I would think its quite rare.
Managing the pressure build up is fairly straight forward too. While it is fermenting on the counter top you need to open the jar at least twice a day to prevent the pressure building up. Remember to be careful when you open the jar to not have it spill everywhere. The kimchi will start to "bubble" when you open it, so some splashing may happen.
If you want to splash out and spend a bit of money on fancy fermentation equipment you can buy a jar that is designed to ferment vegetables. They have an airlock in the lid which will let air bubble out without letting any unwanted bacteria come in.
Now that you have gone through all that and made the kimchi
Print Recipe
Low FODMAP Kimchi
Delicious and quick low FODMAP variant of a traditional kimchi
Ingredients
Vegetables
800

Grams

Chinese/Napa Cabbage

300

Grams

Daikon

250

Grams

Carrot

5-10

Green part of spring onions
Sauce
3

tbsp

Korean Chili Flakes

1

tbsp

gochujang paste

3

tbsp

Water

1

tbsp

Honey

1

tsp

Sesame Oil

½

tbsp

Soy sauce

½

tbsp

Fish Sauce

1

tbsp

Miso Paste
Instructions
Prepping the Vegetables
Peel the carrots and daikon.

Peel the carrots into thin strips using a vegetable peeler. Matchstick the daikon and cut the spring onions into 1 inch chunks.

Take the outer layers off the cabbage. Cut it into quarters length wise. Cut the cabbage into 1-1½ inch segments and give them a good wash in a colander

Place the cut pieces of cabbage in a large bowl and sprinkle with salt. Let sit for 10 minutes then fill the bowl with water and rinse the salt off the cabbage, repeat the rinse process 1-2 times.
Making the sauce
Mix all the ingredients for the sauce into a bowl. Adjust the amount of chili paste and water depending how spicy and thick you would like the sauce.
Making the Kimchi
Mix the sauce with the vegetables in the bowl. Make sure everything is well covered.

Grab a large clean jar and tightly pack the vegetables into the jar. Press hard to squeeze all the juice out to make sure all the vegetables are submerged when the jar is full.

Leave on a counter top for 2-3 days depending on how hot the room is. Remember to open the lid 1-2 times a day and let all the pressure out (otherwise it might explode) and then transfer into the fridge for about a week. Let the pressure out once a day while storing it i the fridge to prevent the build up.