Low FODMAP Passionfruit sundae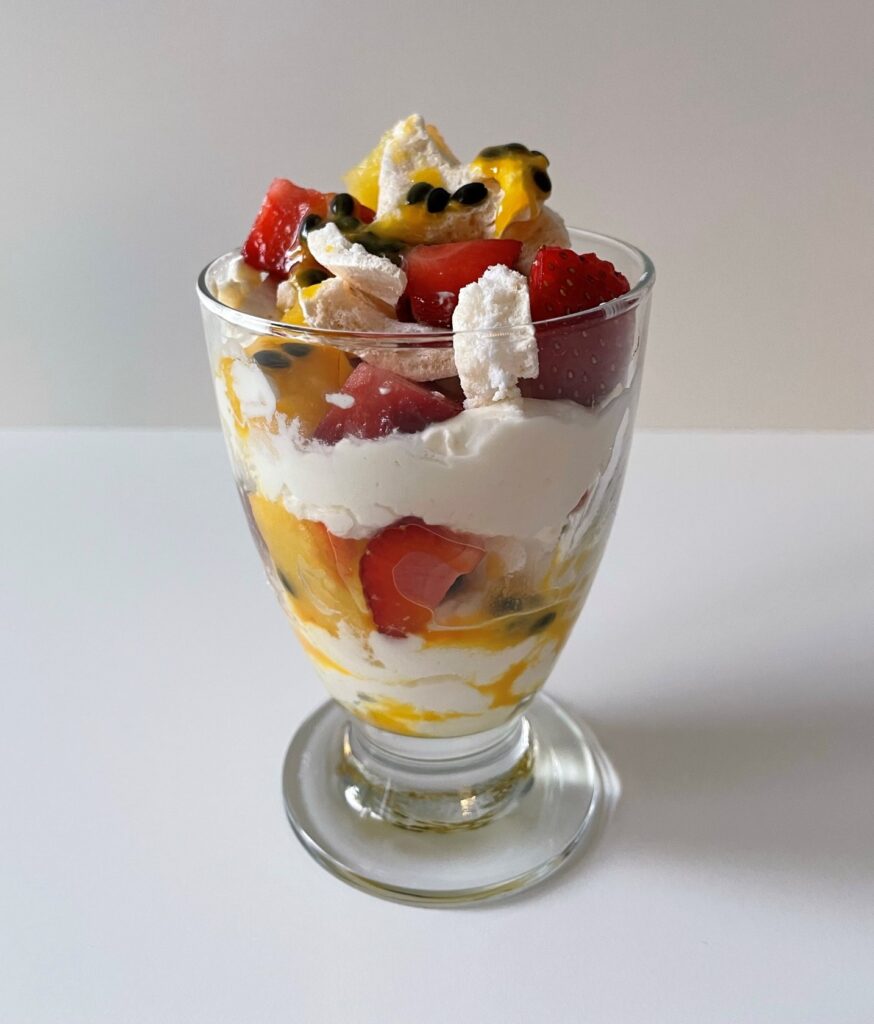 This decadent fruity low FODMAP passionfruit sundae is the perfect dessert to end any evening with. With ice cream and cream (lactose free of course!), homemade meringue, and fresh fruit this dessert has something for everyone!
Perfect for any low FODMAP dessert, meringues are super versatile. Just two simple ingredients, egg and sugar, you can easily whip up a batch if you know your are making this dessert in good time. You can check out our easy meringue recipe if you want to give making them a go yourself! 
Alternatively you can use shop-bought meringues in this dessert. They work equally well. I usually don't care for the shop bought ones as they can be really chalky and dry. However, in this dessert with all the cream, ice cream and fruit it masks the texture just fine. I still prefer making them myself though, so I can get that nice soft chewy centre!
Lactose free cream and ice cream
These work absolutely great in sundaes. Lactose free products these days are absolutely fantastic. I am not even sure I would be able to tell the difference. Usually they are widely available in most shops. 
I just love passionfruit. It is probably one of my favourite flavours to add in to a dessert. In this sundae I chose to use passionfruit, pineapple and strawberry. I decided to add in the strawberry, both for flavour and colour (and because at this time of year they are actually affordable for once!). Even better, they don't stack with the passionfruit and pineapple FODMAP-wise. However, I will caution you to keep an eye on the amounts of passionfruit and pineapple that you use. This is because they both contain fructans. For 1 portion of passionfruit the limit is 46 grams, and for pineapple the limit is 140 grams. 
The amounts in this recipe are well within the limits that Monash have recommended (you can check out their FODMAP App here) as it works out to be 15 grams of passionfruit (1/3 of a portion) and 25 grams of pineapple (around 1/6 of a portion). So even though these fruits would stack at higher amounts, the amounts in this recipe keep you well under 1 full serving of fructans.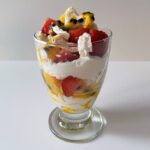 Print Recipe
Low FODMAP Passionfruit sundae
Decadent creamy and fruity sunday perfect for any summer evening!
Ingredients
4

scoops

Lactose free Ice cream

200

mls

Lactose free whipping cream

60

grams

passionfruit flesh/seeds

100

grams

fresh pineapple chunks

8

strawberries, quartered

about 120 grams

2

meringues*
Instructions
Crumble the meringues and use about half of the crumbs to place at the bottom of the sundae glasses.

Add a little of the passionfruit, pineapple and strawberries to each glass

Place 1 scoop of ice cream on top of the fruit

Add a little of the whipped cream

Repeat another layer. I like to finish with some of the fruit and a couple of small meringue crumbs on top.

Serve immediately and enjoy!
Notes
*Check out our Low FODMAP Meringue recipe to make your own, they are super easy to make and much tastier than shop bought ones!