Low FODMAP Kimchi Fried Rice with Tofu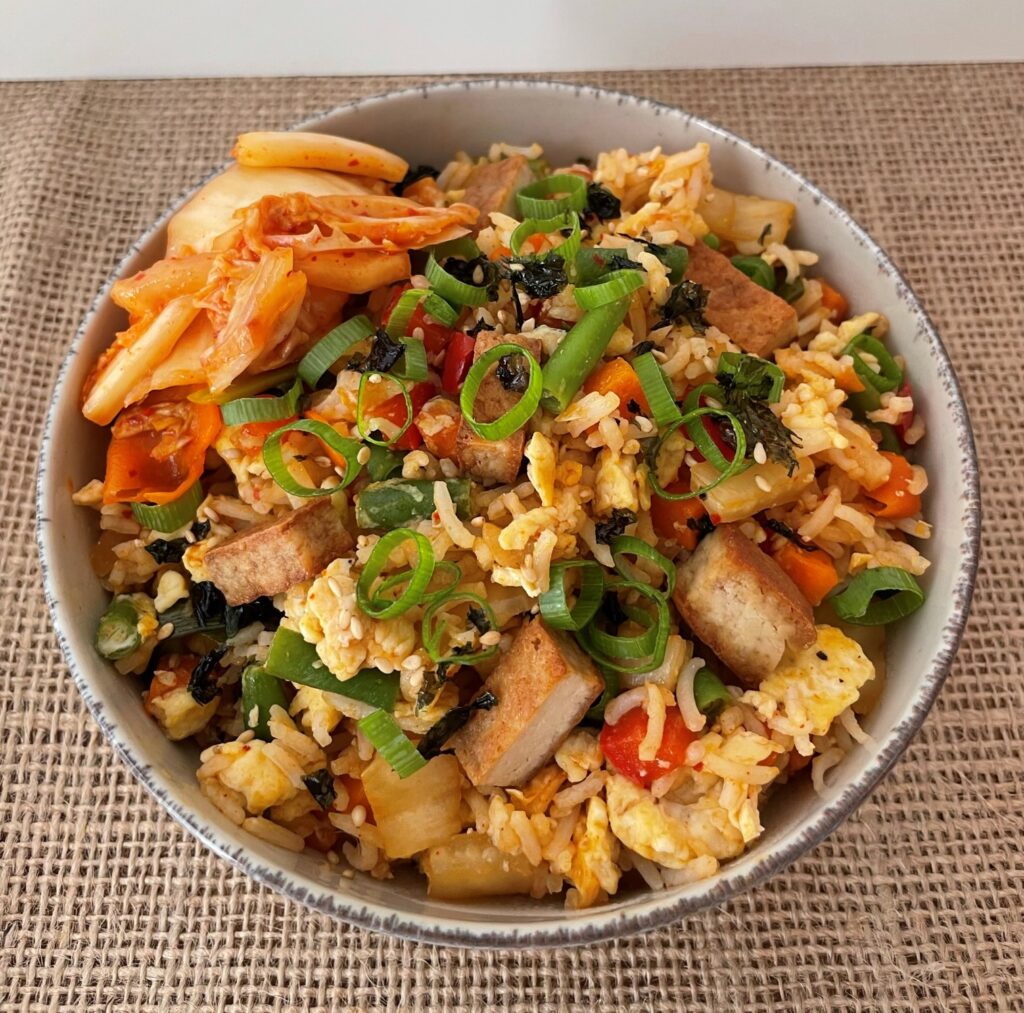 This low FODMAP vegetarian kimchi fried rice is an excellent way to spice up your evening, while keeping your tummy very happy. Fermented foods such as kimchi can give your gut a little extra love. 
This recipe is a follow-on from our low FODMAP kimchi recipe, so hopefully you had fun making that, and are now ready to test out some delicious recipes with it!
Obviously the most important ingredients in this recipe are the rice and the kimchi. We used a medium grain white rice, as is most popular for fried rices, but I think almost any kind of rice would work ultimately. This recipe (like all fried rice recipes) is perfect for using up leftover rice, since it is actually better to use rice that has been sitting a day or two, and has dried out a little! However, not to worry if you're making it fresh, it will still be delicious. 
You'll need to use a low FODMAP kimchi for this recipe. Hopefully you have tried out our own Low FODMAP kimchi recipe, which we have used in this dish. If not then you'll have to check the ingredients in shop-bought products, just make sure they are within the limits that Monash has suggested! 
We chose to make this recipe vegetarian by using tofu, as the strong flavour of the kimchi soaks in very well into the tofu giving it a great flavour! If you're using tofu remember to avoid silken tofu, as it is much much higher in FODMAP, so just stick to the regular kind. You can find out more about the serving suggestions of tofu from the Monash FODMAP App. If you don't care for tofu you can even leave it out if you want to, since the dish still contains egg as a protein. 
If you don't need the meal to be vegetarian then you can use chicken instead. We often do this, and it works wonderfully. 
Your choice of vegetables
Again, like most fried rice dishes, you can go ahead and use any leftover vegetables you have that you need to use up. Obviously if you're following the Low FODMAP diet then you need to be a little more careful to make sure you don't stack loads of vegetables from the same FODMAP group. 
In this recipe we have chosen carrots, green beans and red pepper. Since the kimchi contains a fair amount of cabbage (fructans) we wanted vegetables that didn't stack. Carrots are FODMAP free, red pepper contains fructose, and green beans contain sorbitol and mannitol. We like to pick foods from different FODMAP groups to avoid stacking, and make sure the recipes vary.  So don't worry, you'll be well under the limits of all of these FODMAP groups with this recipe.  
It is important to get the tofu nice and crispy otherwise it will just be a sad soggy addition to the meal. We recommend seasoning it with some salt, pepper and some soy sauce. Then fry it in some oil of your choice for about 5 minutes a side until nice and golden.
The rest of the dish is fairly straightforward to make, just fry the ingredients in order of how long it will take. For example the carrot will take longer than the pepper so they need to go into the pan at different times. As long as you follow the recipe it will turn out perfectly!
At the very end as you are serving, top the dish with a little bit more kimchi if you like. We also prefer to sprinkle some dried seaweed and chopped spring onion greens.
If you like this recipe (and eat meat)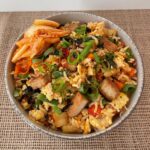 Print Recipe
Low FODMAP kimchi fried rice with tofu
Fast and easy kimchi fried rice made low FODMAP
Ingredients
2

medium

Carrots

70

grams

Frozen green beans

70

grams

Red pepper

200

grams

White rice

(uncooked weight)

100

grams

Tofu

150

grams

Low FODMAP Kimchi

3

Eggs

1,5

tbsp

Soy sauce

Spring onion (green parts) for decoration

2

tbsp

cooking oil
Instructions
Prep
Cook the rice according to package instructions. Or even better, use leftover rice from another dish.

Cut the tofu into smaller bits, either cubes or strips should work well. Dry it off and set aside.

Chop the carrots and red pepper into smaller bits. Try to get them to a similar size.

Take the frozen green bean and cut into ½inch sections (unless you bought the cheaper pre cut kind).

Crack the eggs into a bowl and whisk them to break the yolks.

Put the kimchi on a chopping board and make a few cuts across it with a knife to get it into smaller bits. The size is not that important you just don't want large chunks of kimchi in the dish.
Cooking
Start heating ½ tbsp of oil over a medium heat and add the carrots. Cook for 4-5 minutes until slightly softened.

Add in the peppers and green beans and continue cooking for another 2-3 minutes over medium heat.

Push the vegetables to the side and add the eggs in, scramble until desired texture is achieved. Then push the egg aside with the vegetables.

Add another tbsp of oil in and then tip the cooked rice in. Fry for a few minutes to warm the rice through and then mix all the vegetables in with the rice.

Pour over 1 tbsp of soy sauce and if desired add a pinch of MSG. Tip the chopped kimchi in and mix well.

In a separate pan (or the same, empty it out and add give it a wash) add ½tbsp of oil and fry the tofu for 5-6 minutes per side over medium heat until nice and crispy. Halfway through when you flip the tofu add ½tbsp of soy sauce and move the tofu around to coat them.

Add the tofu to the fried rice, serve up in bowls and top with your preference of topping. We usually go for some spring onion greens, some crispy sea weed and a little bit more kimchi.