Low FODMAP Traybake with pesto crumb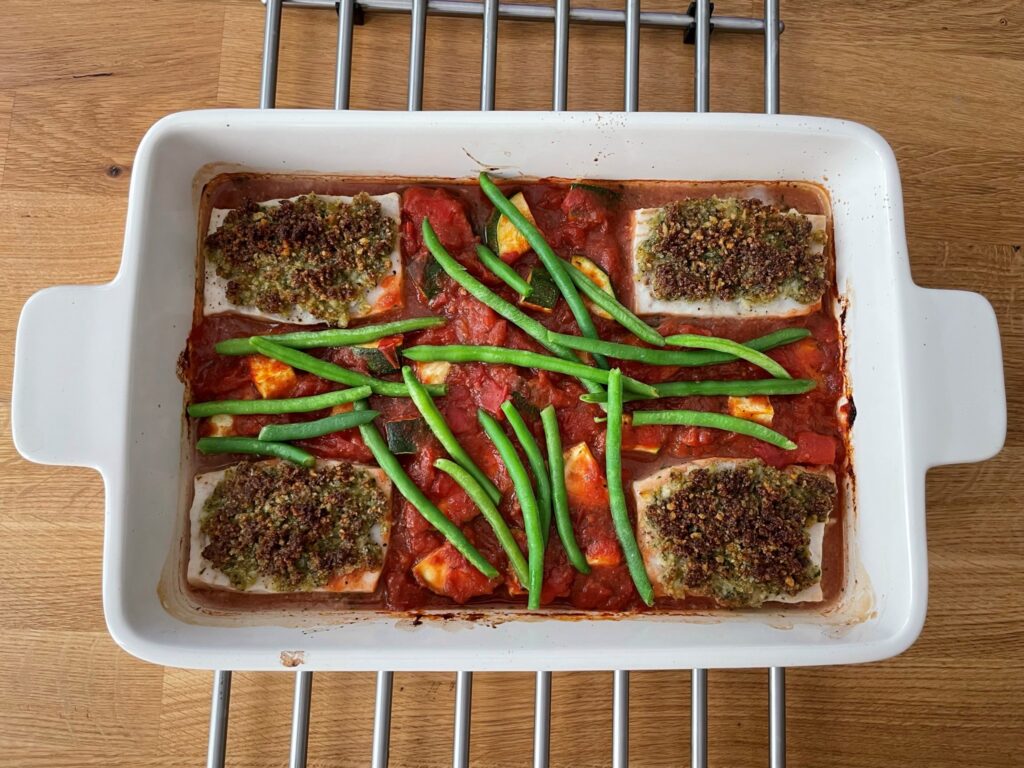 It doesn't get any easier or quicker than a traybake. This light, healthy Low FODMAP meal includes fish, veggies in a tomato base and an easy to make pesto crumb. 
This reipce is beyond perfect for a quick mid-week meal when you can't be bothered to be in the hot stuffy kitchen for a long time. Just whip up the pesto crumb in 30 seconds, bung it all in a tray and pop it in the oven for 15 minutes and you have a delicious and simple meal!
A quick mixture of breadcrumbs and pesto is all it takes to make this pesto crumb. The breadcrumbs help soak up the oil in the pesto, and even better, they make for a nice crispy top to the fish after coming out of the oven. We used panko breadcrumbs in this recipe for convenience. 
According to Monash FODMAP App you can have 75 grams of panko breadcrumbs, which is quite a generous allowance. This recipe only uses 3 tbsp (which worked out to be about 20 grams) of panko breadcrumbs. This means it comes to just 5 grams a portion. So if you can't get panko breadcrumbs you should be absolutely fine using any other breadcrumbs. You can even use gluten-free breadcrumbs if you like!
We even have our own recipe for a super easy homemade Low FODMAP pesto. If you're buying a pesto then make sure it is low FODMAP, just be sure to check the ingredients with Monash's FODMAP App.
Part of the charm of this meal is that it uses lots of cupboard staples. You may have some unused cans of tomatoes from your pre-Low FODMAP diet days. You probably figured you wouldn't be able to use them up given Monash's portion size suggestions. This meal uses one can, or 400 grams. This fits the serving size suggested by Monash since it is split between 4 portions. 
White fish: frozen or fresh!
We decided to use frozen white fish in this recipe. Of course you can use any white fish you like. I even tried this recipe with salmon and it worked out great! However, fresh fish is ridiculously expensive these days and in a meal like this, frozen works just as well. Keeps it ultra-convenient for a last minute dish and keeps the cost down, which is our goal for a lot of our mid-week dinner meals! 
Choose your favourite vegetables
In this recipe we used zucchini and green beans. Other than the fact we love these, it is also a little strategic! The tomatoes contain fructose, so to avoid FODMAP stacking, we chose vegetables with other FODMAPs. Zucchini contains fructans and green breans contain sorbitol and mannitol. This is partly why we recommend using the panko breadcrumbs, because although they also contain fructans, we use a tiny amount of what is "allowed". This means that you can still have a portion of vegetables that contain fructans. In this recipe we use about half a serving of zucchini. So in total you are still a long way below an amount that could trigger any symptoms. 
However, if you are a little more aware of your tolerances or trigger foods, then feel free to use up any vegetables that you have at home! This meal has the potential to be incredibly versatile.
Although this traybake is a fabulous choice if you're looking for a low carb meal, sometimes you just want some carbs on your plate! Not a problem with this meal, it pairs super well with low FODMAP carbs such as potatoes and rice (you could even check out our Low FODMAP lime and coriander rice to pair it with!). Just have those cooking on the side while the traybake is in the oven and you don't add anything to the total cooking time! 
Are you looking for inspiration for other delicious Low FODMAP dinners?
Why not try out some of our other Low FODMAP recipes here at SimplyFODMAP? 
Print Recipe
Low FODMAP Traybake with pesto crumb
Try this tasty low carb Low FODMAP fish traybake
Ingredients
400

grams

White fish fillets

4 fillets

400

grams

Canned cherry or crushed tomatoes

3

tbsp

Panko breadcrumbs

about 20 grams

4

tbsp

Low FODMAP Pesto

about 45 grams

1

tbsp

Balsamic vinegar

150

grams

Zucchini

200

grams

Frozen green beans

1

pinch

salt and pepper to taste
Instructions
Pre-heat the oven to 200c/180c fan.

Combine the panko breadcrumbs with 3 tbsp of pesto and set aside

Cut the zucchini into cubes.

Place the fish fillets in a dish (make sure the dish is big enough to fit the veggies in/around them!)

Season the fish with salt and pepper to taste and spread the pesto crumb evenly over the fillets .

Mix 1 tbsp of pesto into the tomatoes and pour around the fish

Place the zucchini evenly amongst the tomato mixture.

Place in the oven for 12-15 minutes.

Meanwhile defrost the frozen green-beans in some warm water or heat them in a microwave.

Once out of the oven, split the fish and tomato/ zucchini mixture over four plates with the green beans.