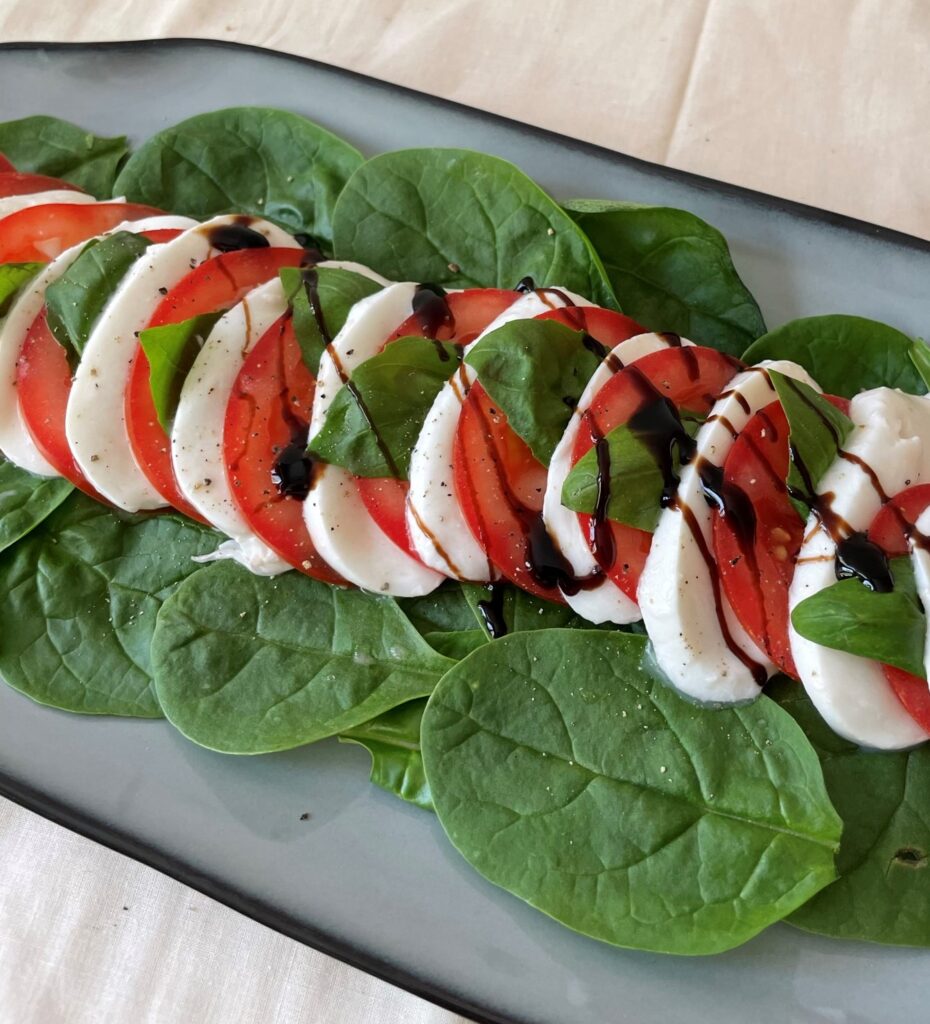 Nothing screams summer like a simple, refreshing caprese salad. Not only does it look pretty, it is so quick and easy to make. Better yet, it requires very few ingredients so is pretty cheap to make. 
We always whip out a caprese salad when we have a barbeque (which is pretty often during the summer). And I promise you, it is always a crowd pleaser!
Did you know that lactose-free mozzarella was a thing? This makes it such a great and simple salad to make on a hot summers day, and it is absolutely delicious. If for some reason you can't get ahold of lactose-free mozzarella then fear not. You can still have 40 grams of normal mozzarella, which means that if you split this salad between three then you are perfectly within the limits set by Monash. I set this salad to make two portions but they are actually really generous portions. Therefore, it would easily make three or four portions if paired with something else (like our Low FODMAP potato salad).
Basil has become one of my favourite go-to herbs. I absolutely adore it and it is a huge part of the flavour of this salad. It pairs so well with the mild creamy mozzarella, and the sweet juiciness of the tomato. Since having to cut out onion and garlic from my life, I have taken it upon myself to grow my own basil since I use it to flavour a lot of dishes. This means I am lucky enough to always have fresh basil on hand.
However, you don't need to grow your own basil for this recipe of course (although it is really easy to grow!). You can just pick some up from the supermarket. Above all, I do have to stress the importance of using fresh basil in this recipe as it is one of the three main ingredients. 
It was a little bit of a blow when Monash recently re-tested and reduced the allowed serving size of tomatoes (although I am definitely grateful to them to their dedication in keeping every aspect of the diet as up-to-date as possible). As a result, a lot of recipes have had to be altered to fit the new recommendations (Check out the Monash FODMAP app for the most up to date information). This caprese salad fits within the new serving allowance of tomatoes, so you definitely don't need to be worried!
Print Recipe
Low FODMAP Caprese salad
This is a creamy and delicious Caprese Salad, perfect for the summer.
Ingredients
120

grams

lactose free mozzarella*

1

medium roma tomato

maximum 130 grams

1

handful

fresh basil leaves

1

pinch

black pepper to taste

1

tbsp

olive oil to drizzle on top
Instructions
Drain the mozzarella and cut into thin slices.

Cut the tomato into roughly as many slices as the mozzarella.

Select a similar amount of basil leaves and arrange the mozzarella, tomato and basil on a plate in any way you desire. We placed ours on a bed of spinach to make it go a little further.

Season with a little black pepper and drizzle with a little olive oil. We used a little balsamic glaze too for extra flavour!

Serve immediately. This salad ought to be eaten within a day or so, since the mozzarella and tomato are wet, the salad can get a little soggy if left for too long.
Notes
*If you don't have access to lactose-free mozzarella you can still enjoy up to 40 grams of normal mozzarella. This salad would need to be split into 3 portions in this case!