Low FODMAP Blueberry Muffins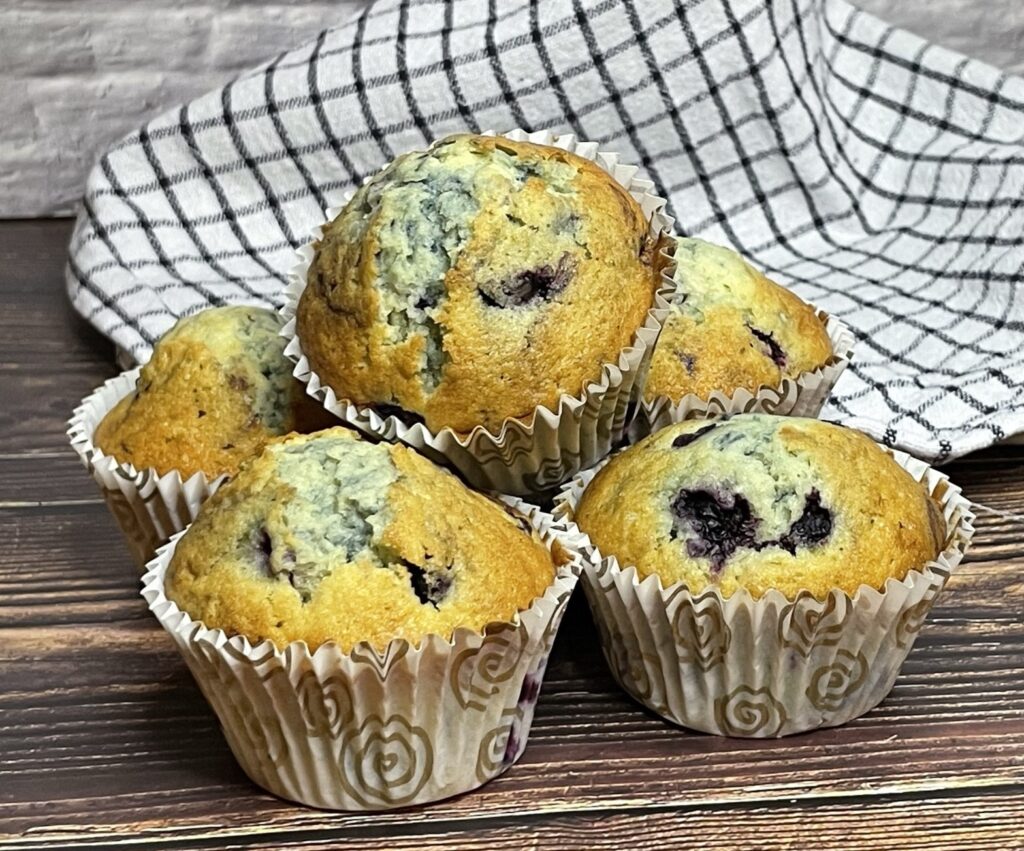 Blueberries have always been one of my favourite berries. The problem was that you could only eat very few of them on the low FODMAP diet. This has recently changed as MONASH University has reclassified Blueberries and now allow up to 125 grams per serving. (Data accurate as of 2022-12-16) Double check with the Monash FODMAP App to be certain.
What better way to celebrate the great news than with some delicious Low FODMAP gluten-free blueberry muffins?
I'm sure we have all made muffins before in our youth, but don't worry if you haven't as this page will tell you all you need to know. It is pretty hard to fail when it comes to making a muffin batter, just make sure to use room temperature butter to save yourself the trouble of trying to whisk cold butter. Also make sure to mix everything well to avoid lumps in the batter. The method calls for you to split the flour and add in half at a time to help you reduce the risk of having a lumpy batter. If it so happens that you get some lumps you can simply just pass the batter through a sieve and push it through with a spatula. This should make sure to get rid of any potential lumps in the batter. Be careful not to mix too much after the berries have been added as this will both make the batter fully purple and leave you without those delicious little pockets of blueberry in the muffins. 
Baking the muffins is very simple, just grab your muffin tray and some of those little paper cups (or maybe you have some re-useable silicone ones, they work too). I recommend baking these using the convection setting of the oven rather than fan assisted. I'm certain fan assisted ovens will work too, just be sure to reduce the heat by about 20c and watch carefully towards the end to make sure not to burn the muffins. 
A good way to tell if the muffin is done is by inserting a wooden skewer or toothpick into the middle of the muffin. If it comes out nice and clean (maybe a little purple from the blueberries) and not covered in batter, that means they are done. Be careful not to over bake them either as they may turn out a little dry if they are in the oven too long. I'd recommend to check them after about 17 minutes even though the cook time is 20-25 minutes, this is due to the fact that all ovens act slightly differently.
While you are here you might like some of these recipes:
Print Recipe
Low FODMAP Blueberry Muffins
You have to try these quick and easy gluten gree low FODMAP blueberry muffins
Equipment
1 12 slot muffin tray

12 Paper muffin cups

1 Electric Whisk

Optional
Ingredients
125

grams

Butter

Room Temp

180

grams

Caster Sugar

2

large

Eggs

0,5

tsp

Vanilla essence/extract

100

ml

Milk

Lactose Free

240

grams

Gluten Free AP Flour Mix

2

tsp

Baking Powder

1

pinch

Salt

125

grams

Blueberries

Fresh or Frozen
Instructions
Pre heat the oven to 200c, place the muffin cups in the tray and set aside.

Whisk together butter, sugar, eggs and vanilla in a large bowl until light and fluffy. Easiest to do with an electric whisk, but can be done with a normal whisk too.

In a separate bowl combine flour, salt, baking powder.

Add the milk to the egg mixture and sieve in the bowl of flour in two batches to avoid forming lumps. If you accidentally manage to end up with a lumpy batter you can pass it all through the sieve and push any lumps through to break them up.

Fold in all but 25 grams of the blueberries (Set aside for the next step). Be gentle to not crush too many of the blueberries.

Transfer the batter into the muffin cups, don't fill more than 3/4 of the way up in the cups otherwise they might spill over. Finally add 2-3 blueberries on to the top each of the muffins pushing it down gently. This is done to make sure to have a nice and even spread of blueberries in the muffins.

Bake in the middle of the oven at 200C convection for around 20-25 minutes or until a skewer comes out clean when poked into the middle of the muffins.