Low FODMAP Brussels Sprouts & Pancetta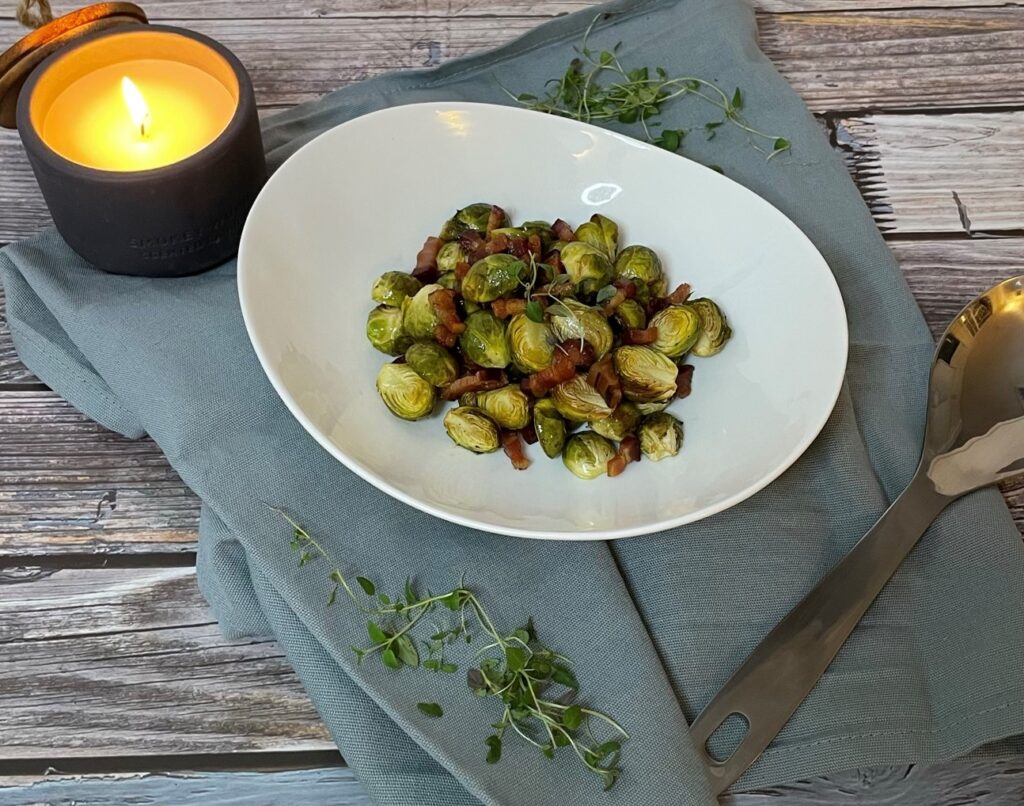 I know, you are not a big fan of Brussels sprouts, right? I'm about to change that all with this Low FODMAP Brussels sprout recipe! 
This is as far as you can get from those old over cooked sprouts your grandmother used to make. These are roasted, crisp and covered in what I like to call "bacon 2.0" (it's just pancetta, but its sooo much better than bacon).
Roasting the sprouts in the oven is so much tastier than boiling them. They stay nice and firm and keep a bit more of the flavour that otherwise would seep out into the water. I find that boiling them tend to keep only the bitter notes in the sprouts, which I understand some people don't love. This is why my preferred method is to roast them. To add some more flavour I decided to add some garlic infused oil here. One of the, in my opinion, worst things about the low FODMAP diet is the lack of garlic in my life. That is why these infused oils are fantastic, you can find all sorts of infusions that you normally wouldn't be able to eat on a low FODMAP diet.
The great thing about this recipe is that you cook the pancetta at the same time as you have the sprouts roasting in the oven. This means you have plenty of time to properly render out the fat from the pancetta to make sure its as crispy as it gets. The fat that's left in the pan is also a great source of flavour if you want to keep it and use it to fry some other vegetables in at another point. I personally just dumped all the fat in with the sprouts to make sure to maximize the flavour in the dish.
I'll tell you why, but i can also reverse the question, why would I use bacon? The reason to not use bacon is that you get all the same delicious, deep, savoury and meaty flavour without that overpowering smoke flavour you get in  most bacon. It tends to just take over the whole thing and cover up all the delicious flavours you get from  roasting the sprouts with the infused oil.
Sure if you must you can swap the pancetta for bacon. But I will tell you that you are missing out on something if you don't try it at least once. Maybe you make it with pancetta for Thanksgiving and try a bacon version for Christmas? 
Are you looking for more Thanksgiving recipes?
Print Recipe
Low FODMAP Brussels Sprouts & Pancetta​
This delicious bowl of roasted brussels sprouts and crispy pancetta is a perfect side for your Thanksgiving or Christmas dinner!
Ingredients
200

grams

Brussels sprouts

100

grams

pancetta

1

tbsp

Garlic infused oil

Or other oil

1

pinch

salt and pepper
Instructions
Wash and cut the sprouts in half. Place them in a bowl and toss with the oil, salt and pepper. Place sprouts in an ovenproof dish and roast for 20 minutes at (180c Fan/200c convection)

Cut the pancetta into little cubes, or whatever shape you prefer. Cook on medium heat for about 15 minutes until the fat has rendered out and the pancetta is nice and crispy.

Combine the roasted sprouts and cooked pancetta in a bowl. Don't be shy to add all the delicious grease from the pan you cooked the pancetta in (Or don't if your stomach doesn't do too well with fat).

Serve immediately while warm. If desired you can grate over some sharp cheddar or parmesan for a nice twist.