Low FODMAP Chickpea and Quinoa Salad
This FODMAP friendly chickpea and quinoa salad is flavoured with the classic lime and corriander combination, making it fresh and flavourful. This salad also happens to be vegan which can be downright challenging to find recipes for on the low FODMAP phase of the diet. 
Lets talk about quinoa as a carb
Quinoa is one of those lesser known grains. People tend to either ignore it or avoid it for some reason. Until they find out they have to cut out gluten and wheat from their diet, that is. Then they realise just how fantasticly versatile quinoa can be! 
Not only this they can look quite striking. In this recipe I used a mix of white, red and black quinoa. The allowed portion size for all of these variants is 155 grams, so it doesn't matter which you choose for your meal. I find that the red and black variants keep a bit more of a bite to them, while the white variant is much softer. This is why I like the mixture as I get a combination of both textures! 
Beans and legumes are a tricky one when it comes to the low FODMAP phase of the diet. And chickpeas are no exception. This is why it can be hard to find vegan and vegetarian recipes. They are great for adding protein into the dish, which is why they are often a staple for vegan/vegetarian meals. The Monash FODMAP app states that you can only have 42 grams of canned chickpeas. 
If you are going to keep beans and legumes in your diet then definitely opt for canned versions. They have a lower FODMAP content as the FODMAPs leech out into the surrounding liquid. This is also why I state that you should rinse the chickpeas before adding them into your meal. This makes sure you get rid of as many of the FODMAPs as possible to reduce the risk of accidentally exceeding the recommended amount. 
If you're looking for other alternative low FODMAP salads check out our other recipes: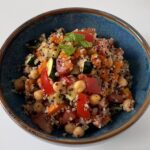 Print Recipe
Low FODMAP Chickpea and Quinoa Salad
This quinoa salad is both light and fresh. perfect side dish on a hot summers day
Ingredients
1

tbsp

cooking oil

100

grams

quinoa (uncooked)

=300g cooked (150g/portion)

1

medium

carrot

100

grams

zucchini

1

tomato

maximum 130 grams

84

grams

canned chickpeas

(drained and rinsed)

1

handful

fresh corriander

1

splash

lime juice

1/2

pinch

salt and pepper to taste
Instructions
Bring a medium saucepan of water to a boil and add in the quinoa. Turn the heat down to a gentle simmer for about 10 minutes.

Cut the carrot and zucchini into small chunks.

Heat the oil in a medium saucepan at a medium heat and add the carrots first for about 3 minutes, stirring occasionally to avoid sticking to the pan.

Add in the zucchini for a further 3-4 minutes until both the carrots and zucchini have softened. Take off the heat and set aside.

Cut the tomato into medium sized chunks and set aside.

Drain the quinoa and let sit for a couple of minutes to let it fluff up and dry out slightly.

In a medium-large bowl add the carrots and zucchini, followed by the tomatoes and the rinsed chickpeas and mix. Fold in the quinoa.

Season with salt and pepper according to your taste. Add a splash of lime juice and mix in the fresh corriander and enjoy either warm or cold!