Low FODMAP Bibimbap with Steak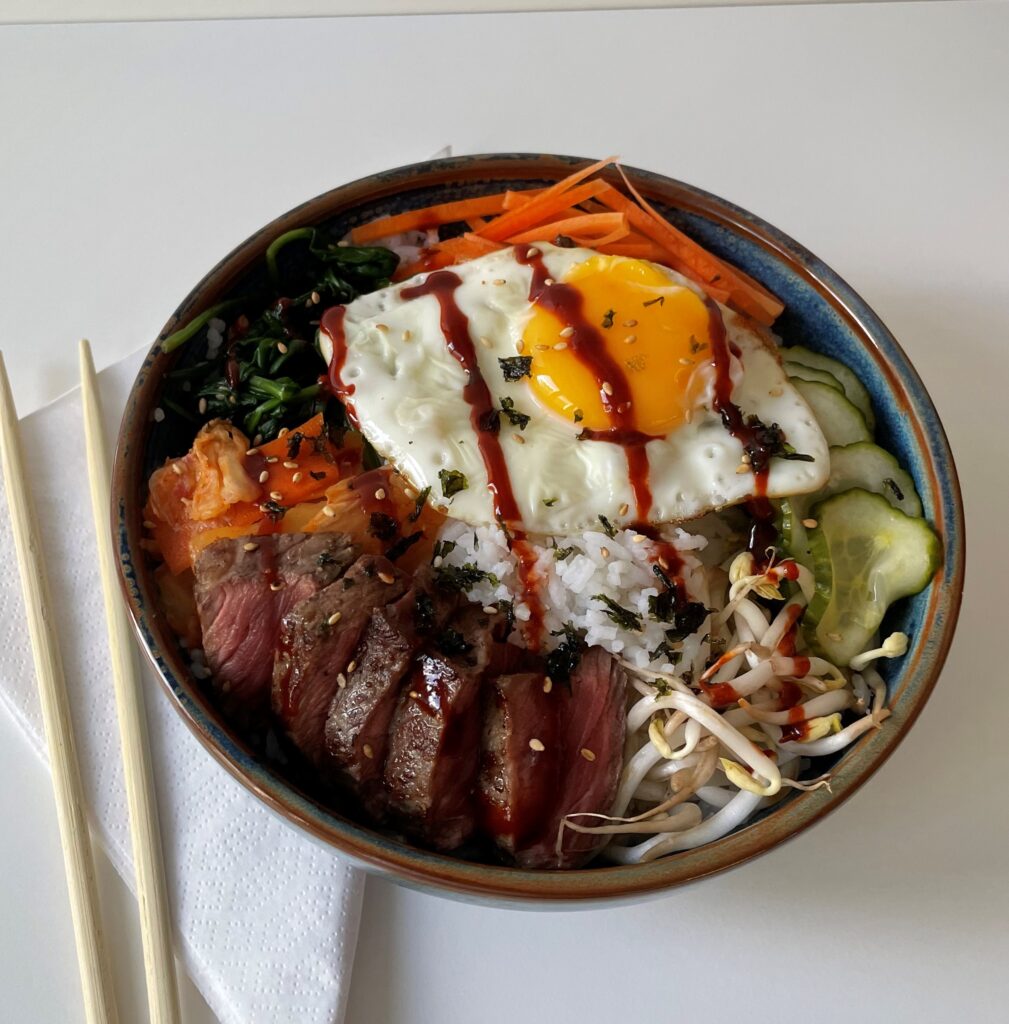 This low FODMAP Korean staple dish has definitely made its way into our hearts as a firm favourite. Bibimbap is basically a rice base paired with meat and different vegetables. One of the most iconic Korean staple foods.
The possibilities with this dish are endless. Our dish is obviously tailored to fit a low FODMAP diet, but the idea of this dish is to use any vegetables that are in season to create a vibrant, healthy bowl just bursting with colours and flavours. 
Looking at the length of this recipe and all the ingredients may seem daunting to you. But fear not, I'm here to guide you through the world of bibimbaps. One of the main things to note is that YOU decide what you want in the dish. The only things I insist you keep to is the rice, egg and kimchi. Anything else I suggest you to experiment with and find what you like.
This dish is perfect to make towards the end of the week and use up any of the leftovers you may have. But it also works equally well to have it as a Sunday/Monday night dinner and make a little bit extra to take for lunch during the week.
The components of the Bibimbap
As stated before, it may seem like a lot of work and many ingredients needed. But I find it to be rather quick to make, especially as lots of the ingredients can be done in parallel.
Rice is the base of this whole dish. You need to make sure to have a high quality rice that you enjoy. Preferably an asian short grain rice (AKA Sushi rice).  If you are unable to find this type of rice you can use other types such as basmati or jasmine too, but it wont be quite the same experience. Just stay away from any type of par-boiled or minute rice.
Cook the rice according to the instructions on the package. This can vary a bit between different styles and manufacturers. Put the rice in a bowl and pour over the seasoning for the rice. After that is done you can set the rice aside for later. Let is sit and soak up all the flavour from the vinegar. 
This is seasoning is commonly sold as "sushi vinegar".  To make this at home you simply combine rice vinegar and sugar with a pinch of salt. Heat it gently and mix until the sugar has dissolved.
Kimchi is a key ingredient when it comes to korean cooking. Traditional kimchi can have fodmap packed ingredients such as onion and garlic. I am working on a low FODMAP variant of kimchi that can be paired with this dish. If you decide to buy kimchi for this dish, just make sure it doesn't contain any high FODMAP ingredients (Refer to MONASH FODMAP App). This section will be updated when the recipe is available.
In this variant of bibimbap I went for a simple matchstick carrot and a tangy quick pickled cucumber. More detailed instructions how to quick pickle vegetables can be found on our page. You can also find inspiration for other types of vegetables that are well suited for pickling.
I also decided to include a touch of umami in form of Sigeumchi-namul a traditional korean side dish (or Banchan as they call it). The dish is not fully traditional as it normally contains both garlic and onion, but this variant is equally good in my opinion. I have had to remove the onion and garlic but added a little bit more flavour in form of sesame oil and fish sauce.
The egg is a key part of the bibimbap. It is up to you how you like it cooked, I have made variants with boiled, fried or even poached eggs. They all add a delicious creamy texture and taste to the dish. Simply pick you favourite way to prepare the eggs, just make sure to not overcook the eggs.
Steak is my meat of choice for bibimbap as I am a big lover of steak. I have on occasion tried to make it with chicken too which also works really well. I would recommend to try some crispy fried tofu if you don't eat meat.
I prefer my steak on the rarer side, and I would never recommend cooking a steak past medium well (slightly pink). If you prefer meat cooked well done I would recommend going for chicken instead. Here is a reference for the temperatures to cook the steak.
Rare: 48C/ 118F
Medium rare: 52C/125F
Medium:58C/136F
Medium well: 62C/143F
The Sauce (Gochujang Sauce)
If you want to make this dish in a more authentic Korean way I recommend you to make a Gochujang sauce. If you are unable to get a hold of the ingredients you can just skip the sauce or drizzle some of your favourite hot sauce on top.
Gochujang sauce is fantastic to drizzle over top of this dish if you like food with a little bit of a kick. Its not too spicy as it is made from a chili paste form a relatively mild variety of chili. It is a very iconic deep red colour and has a nice sweetness as well as a nice deep flavour from the soy sauce.  Perfect to drizzle over the dish when finished, or great to toss some fried chicken in to get korean fried chicken.
My variant of the sauce has the following ingredients:
 1 tbsp of Gochujang
1 tbsp of water
½ tbsp each of soy sauce, honey and rice vinegar.
Print Recipe
Low FODMAP Bibimbap
A low FODMAP variant of Bibimbap
Ingredients
2/3

Cucumber

1

Carrot

500

grams

cooked white rice

3.5 dL of uncooked rice

100

grams

Spinach

4

Eggs

100

grams

fresh beansprouts

100

ml

Caster sugar

150

ml

Boiling water

50

ml

Vinegar

1

tsp

Soy sauce

0.5

tsp

Fish sauce

0.5

tsp

Sesame seeds

1

drop

Sesame oil

400

grams

Steak

100

Grams

Low FODMAP kimchi

see separate recipe
Instructions
Prepping vegetables
Matchstick the carrots and set aside.

Slice cucumber into thin discs and place in a bowl.

Wash the beansprouts and dry off on a paper towel.
Spinach
Put the spinach in a bowl and cover in boiled water. Let sit for a couple of minutes until wilted, then drain. Add soy sauce, fish sauce, sesame oil and sesame seeds to the spinach, mix and set aside.
Pickled Cucumber
Boil 100mL of water. In a mug, add the boiled water to the sugar and stir to dissolve and then add the vinegar. Pour over the cucumber slices and let sit in the liquid during the rest of the meal prep.
Rice
Measure out the rice and bring to the boil under a medium-high heat. Once boiling, reduce the heat to a medium-low heat and let simmer for 10 minutes.

Once the rice is cooked, drain it and pour over 3 tablespoons of "sushi vinegar" (3 tbsp rice vinegar mixed with 1 tbsp of caster sugar), mix until the vinegar is evenly distributed then set aside.
Eggs
Depending on your preference. Boil or fry the eggs.

Boiled eggs: put the eggs in a saucepan of cold water, set the heat to max and bring to a boil. Once boiling set a timer for 6minutes 30 seconds and reduce the heat to medium. When the time is up transfer the eggs to a bowl of cold water to stop the cooking.

Fried egg: Heat a little bit of oil to medium heat in a frying pan. Crack the eggs into the pan and fry "sunny side" until the egg white has set and the yolk is creamy (or longer if you prefer them to be fully set). Season with salt and pepper to taste.
Steak
Take the steak out 20-30 minutes before cooking to let it come up to room temperature. Season with salt and pepper.

Heat a frying pan to high heat, add a little bit of oil and then add the steaks. Cook for a few minutes per side and flip once a nice brown "crust" has formed. Cook the steak according to your preference. See reference for temperatures above.

Take the steak off the heat and let rest for a few minutes before slicing into thin strips.
"Building" the Bibimbap
Add a layer of rice to a bowl. Place all the components (Pickled vegetables, Spinach, Carrots, Bean sprouts, steak & kimchi) on top of the rice. Place the egg on top of everything and if desired drizzle some of the iconic red spicy korean sauce over the whole dish.