Low FODMAP Quinoa and Broccoli Bowl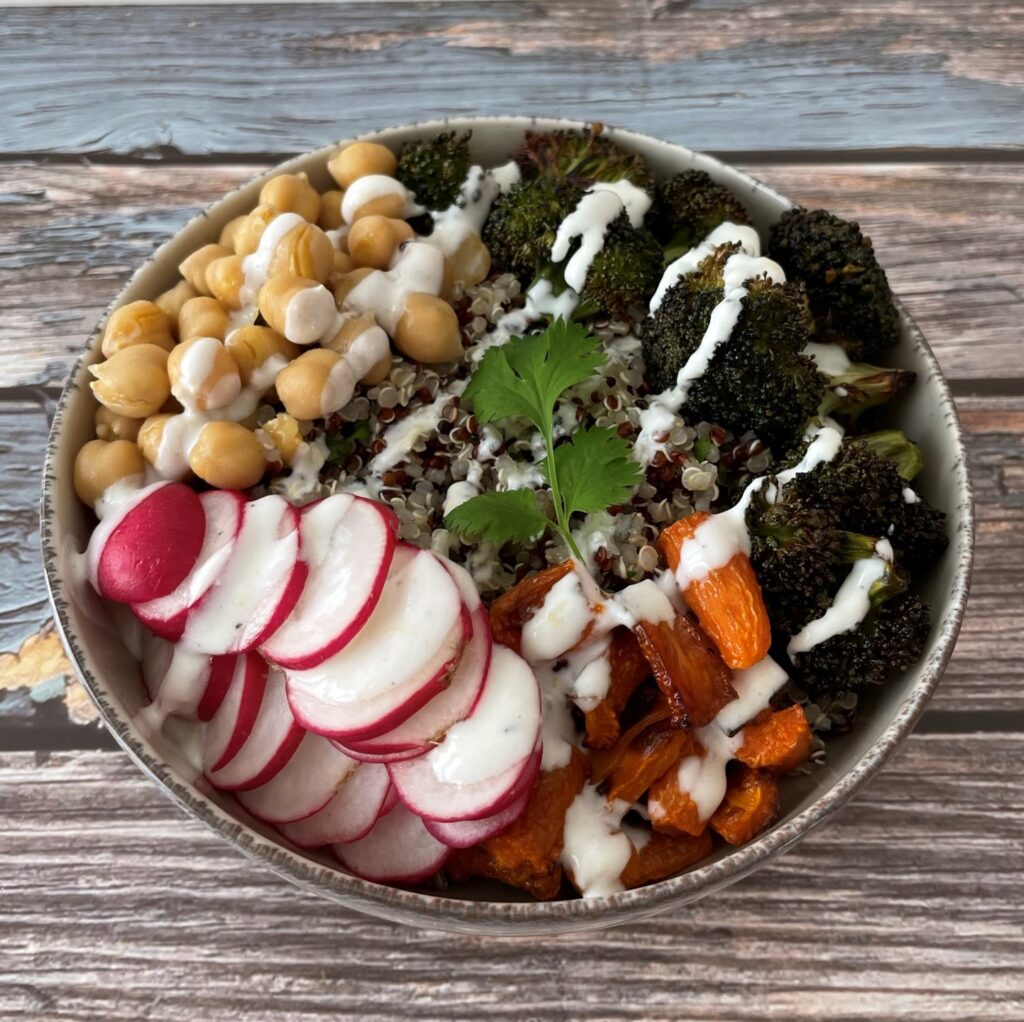 In the mood for something a bit different from your usual week-night dinner? This low FODMAP quinoa and broccoli bowl is extremely satisfying, and you can easily scale it up to do some meal prep for lunches during the week.
One fantastic thing about this bowl is that it is vegetarian (and with a couple of easy tweaks to the dressing it can even be made vegan!) Chickpeas are a great source of protein, especially when paired with quinoa. We know it can be a little more challenging to find low FODMAP vegetarian recipes that keep your protein intake up, so this bowl is absolutely perfect for that! 
Don't be afraid of chickpeas!
We know it can be a little tough to follow the Low FODMAP diet if you aren't keen on eating meat and would prefer to keep it vegetarian. Meat is, unfortunately, one of the easier things to incorporate into the Low FODMAP diet. This is because meat doesn't contain carbohydrates, and therefore cannot contain FODMAPs. So what to do if you want vegetarian meals that keep your protein intake up, and keep you full for ages?
One of the first things you learn on the low FODMAP diet is that beans and legumes are a no-go during this low FODMAP phase of the diet. However, according to Monash University (download their FODMAP App!) chickpeas are actually considered low FODMAP at 42 grams if you buy them canned. This is because the FODMAPs are water soluble, and therefore leech out of the chickpeas into the surrounding liquid, which you then tip away and rinse off. This results in chickpeas that are lower in FODMAPs and allows for a moderate serving size of them (I used the recommended 42 grams in the picture shown!). 
Quinoa is a really underrated grain in my opinion. It has more flavour than rice, yet doesn't overpower any dish. Not only that it is the only grain that is considered a complete protein! This means it contains all the essential amino acids you need, and on top of that it is generally just a nutrient dense grain in general. 
In this recipe I opted for the tri-coloured quinoa, since I can get that easily from my local shop. However, it makes no real difference which colour quinoa you use in this dish. The most common is white quinoa, with red and black variants being more expensive. I find that they all have slightly different textures so I really enjoy using the mixture of all three for an extra bit of interest! But in all honestly, go for whatever you have available to you/what you like best. There is no difference in the serving size you can have in regards to the different colours of quinoa and their FODMAP content.
Roasted broccoli (and carrots!)
Broccoli is another ingredient I shied away from at the beginning of my low FODMAP journey. It was only recently that I even looked up the suggested serving size and the corresponding FODMAP content that I even realised that 75 grams of broccoli is quite a lot! I used to absolutely love broccoli, but usually ate it with a roast dinner on a Sunday, and ended up feeling awful after the meal (and yet I still insisted on doing it every weekend). Looking back now, I am certain it was nearly everything else in the meal causing my stomach ache, and not the broccoli. So I decided to find a few meals that I could incorporate broccoli into. 
Roasting broccoli is a fantastic way to make it a little more interesting if you're not a fan of boiling/steaming it plain. When you roast vegetables you get the chance to add seasonings and flavours to them, which makes them so delicious it doesn't even feel like you are eating vegetables! One word of caution when roasting vegetables, be careful with the amount of oil you use. Not only does it bump the calorie content drastically, it is notorious for getting the gut going, which may not be ideal for IBS sufferers, so use it in moderation!
As with most of my recipes, I love incorporating carrots, not only to bulk the meal but because they are cheap and keep for ages! So whenever I am roasting any vegetables for a meal, I usually cut up some carrots to throw in there because, lets face it, they are also delicious roasted!
How about trying some of our other recipes
Print Recipe
Low FODMAP Quinoa and Broccoli Bowl
This warm and filling vegetarian broccoli and quinoa bowl is perfect for a week-night dinner!
Ingredients
150

grams

Broccoli florets

120

grams

Quinoa

Uncooked weight

2

medium

Carrots

4

Radishes

80

grams

Canned chickpeas

1

handful

Fresh coriander
Lemon Dressing
3

tbsp

Greek yoghurt*

lactose free

4

tbsp

Lemon juice

4

tbsp

Milk*

lactose free

2

tbsp

Olive oil

Lemon zest from 1 lemon

1

pinch

Salt and pepper to taste
Instructions
For the bowl
Pre-heat the oven to 200c/ 180c fan.

Cut the broccoli into florets and the carrots into batons and place on a baking sheet. Drizzle with cooking oil, and twist a little salt and pepper over them for extra flavour. Pop them in the oven for about 20-30 minutes or until browned and slightly crispy.

Bring a medium saucepan of water to a boil and add the quinoa. Recude to a gentle simmer and cook according to the instructions on the packaging (different colours of quinoa take different amounts of time!)

Slice the radishes and set aside.

Drain the chickpeas and rinse well in a colander (this makes sure you remove all of the liquid that the FODMAPs have leeched out into!).

Drain the quinoa and let sit for a few minutes to dry out a little bit-it can be quite wet!

Remove the carrots and broccoli from the oven and let cool for a couple of minutes while you prepare your bowl!

Split the quinoa across two bowls, Top with the chickpeas, radishes, carrots and broccoli and drizzle the lemon dressing (see instructions below) over the top. Garnish with fresh coriander.
For the lemon dressing
In a medium bowl, whisk together the olive oil, lemon juice, lemon zest, greek yoghurt, milk and salt and pepper until iot has combined.

This dressing keeps for up to 3 days refrigerated. Just cover it so that it doesn't dry out!
Notes
*You can make this recipe vegan by switching out the milk and greek yoghurt with oat-based or other vegan alternatives. Make sure to check Monash's FODMAP APP when choosing a suitable product.