Low FODMAP Potato & Leek Soup
Potato and leek soup has always been one of our favourite soups. It's a timeless classic that never goes wrong for dinner a cold evening, or as a light and fresh lunch to take with you to work. 
When transitioning to a low FODMAP lifestyle we were certain that this soup would have to go. But luckily the green part of the leek is low FODMAP. The flavour of this soup of fairly close to a traditional one, but it tastes a little bit more "green" than it would from using the white part of the leek.
The recipe is a pretty straightforward standard recipe for a potato and leek soup, the difference being that you use the green part of the leek instead of the white part that you would normally use. We also decided to add a splash of dry white wine to the soup, which is optional but recommended as it does help to balance the creamy taste of the soup a little bit. If you don't have wine you can just leave it out as it wont affect the final result all that much, or substitute a little splash of apple cider vinegar or similar.
If you have a household like we do where one of you doesn't suffer the effect of FODMAPs and one of you does, then you can simply make two batches of the soup and use the green half of the leek for one person and the white half for the other. This is something we frequently do when we make this soup to make sure to cut down on food waste. 
You could technically "regrow" the leek again by sticking the white half in water and wait for more of the green part to grow out. This will be done at your own risk though, as the fodmap content has not been tested in leeks grown this way. But it could be an alternative to wasting half a leek every time you want to make soup.
We can strongly recommend trying this soup with one of our sourdough breads. Bread goes perfectly with soup and as it is made from sourdough you can have 109 grams of it compared to 24 grams of regular white bread according to MONASH. This has to do with the fact that a large number of the FODMAPS are used in the fermentation process with the sourdough starter. Check below for some of our sourdough bread recipes.
Then you should check out our: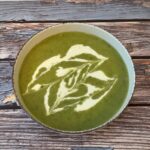 Print Recipe
Low FODMAP Potato & Leek Soup
This creamy and filling soup is perfect to warm you up on a cold day
Ingredients
1½

cube

Low FODMAP Vegetable stock

750

ml

Water

230

grams

Green Tops of Leek

450

grams

Potatoes

50

ml

White Wine

Optional

50

grams

Lactose Free Crème Fraiche*

about 2 heaped Tablespoons

1

pinch

Salt & Pepper

To Taste

1

tbsp

Butter or Oil
Instructions
Peel and cut the potatoes into small cubes (1x1cm)

Wash and cut the green part of the leek into thin strips.

Place a large saucepan over medium heat and add in the butter/oil.

Tip in the leek and potatoes and fry in the butter for about 5 minutes.

Add in the wine and cook for a couple of minutes, while deglazing any of the bits that may have stuck to the bottom of the pan.

Throw in the stock cube and pour in the water. Cover the pot with a lid and let boil for around 15 minutes or until the potatoes are soft.

Blend the soup with an immersion blender until smooth. Stir in the crème fraiche and season to taste with salt and pepper.

Serve topped with some crème fraiche or cream. Optionally you can serve it with a piece of bread or some croutons for a nice crunch with the soup.
Notes
*If you don't have

Crème Fraiche feel free to substitute with 50 mls lactose free cream (use a heavier cream for a creamier soup).