Low FODMAP Pesto Pasta Salad
This simple yet tasty low FODMAP pasta salad has only a few ingredients. Even so, it is absolutely bursting with flavour, in a fresh summer salad that is sure to please your tastebuds, and your tummy.
Basil pesto is one of my absolute favourite things to throw onto a pasta dish. I suppose now that I have lived without onion and garlic for several years, basil has become a firm staple in a lot of our cookng. So much so that I even decided to grow my own basil plants and nearly took over the whole house with them (it got a little out of control). This means we have plenty of fresh basil to use in our cooking. 
In this pasta salad we used our own home made basil pesto, which is super easy to make. However, if you're not interested in making your own then you might be able find a jar of low FODMAP pesto at the supermarket. Just check in with Monash's FODMAP App or even the FODMAP friendly App to look through the ingredients.
Even if you do end up buying a pesto instead of making a batch of your own, I really do recommend buying some fresh basil to add into the dish anyway. It really adds to the colour of the dish, and as much as I love the flavour of the pestoitself, fresh basil leaves taste absolutely wonderful.
Tomatoes have unfortunately been re-tested by Monash recently, and the allowed serving has been reduced. That means it is a little harder to use tomatoes in a lot of dishes (especially pasta dishes!). We are striving to find recipes where the tomatoes can still shine in a dish, just in a slightly smaller amount. As this pasta salad has so few ingredients, the tomatoes don't disappear, whilst still sticking to the serving size recommended by Monash!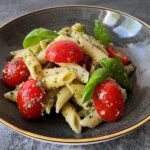 Print Recipe
Low FODMAP Pesto Pasta Salad
This Pasta Salad is a perfect side dish for a summer BBQ
Ingredients
150

grams

gluten free pasta

uncooked weight

90

grams

cherry tomatoes

10

basil leaves

2

tbsp

Low FODMAP basil pesto
Instructions
Cook the gluten-free pasta according to instructions on the packaging.

Halve the cherry tomatoes and set aside until the pasta is cooked.

Rinse the pasta in cold water and mix the pesto in.

Mix in the tomatoes and fresh basil leaves.

Enjoy as a side or add a protein to make it a delicious lunch or dinner!