Low FODMAP Lime and Coriander rice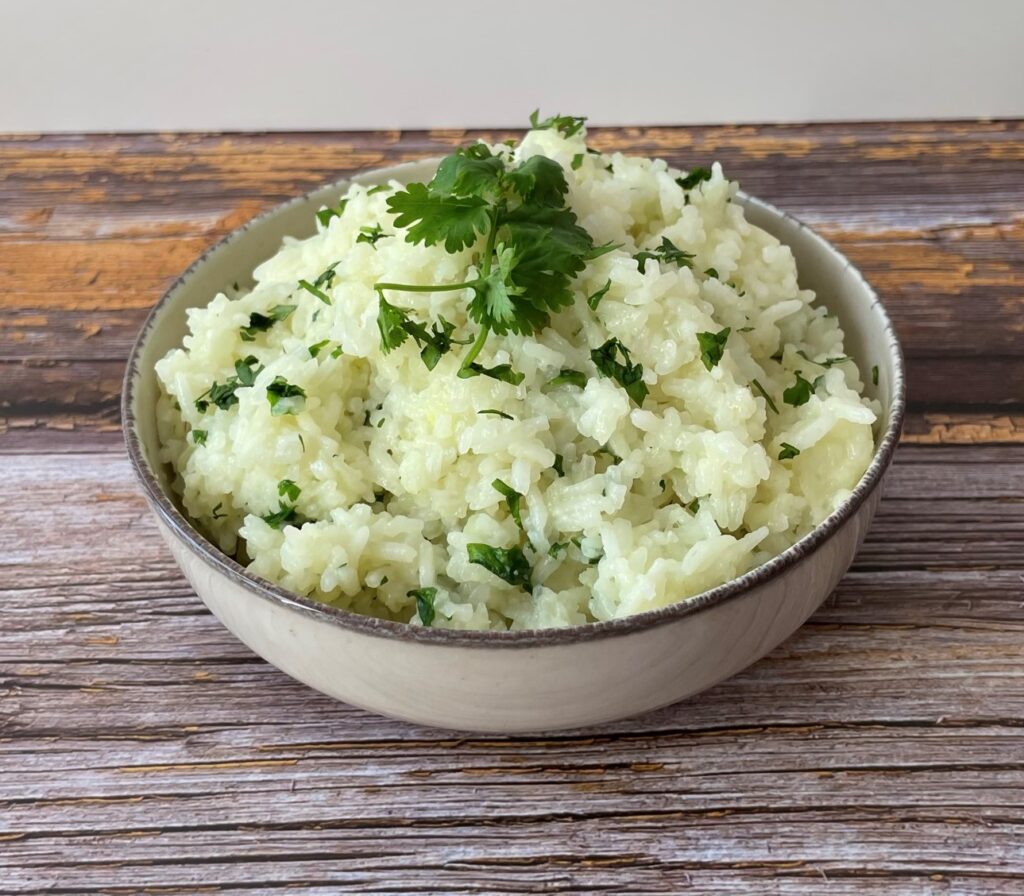 This Low FODMAP lime and coriander rice dish is absolutely packed with flavour. I am by no means an expert when it comes to cooking rice with the correct amount of water (I am more of a "boil it like pasta and drain it" type of girl- don't hate me!) but this rice always comes out perfectly! 
Perfect on the side of any number of dishes, we usually pair it on the side of a protein such as chicken curries or use it as a base in some of our nourish bowls (also known as Buddha bowls!)
Fresh coriander really makes this dish. I absolutely love coriander, and luckily you can use as much of it as you like. It makes for a really pretty rice dish too. If there is one thing you should be embracing on the Low FODMAP diet it is all the herbs and spices you can cook with! Sure, you have to cut out onion and garlic- two main flavours in nearly every dish ever. But learning to cook without them opens up a whole new world of flavours waiting to be enjoyed! 
This is where the fresh herbs can make all the difference! According to Monash (whose FODMAP App you should absolutely check out) herbs are low in FODMAPs, so buying (or even learning to grow your own) fresh herbs will definitely make your low FODMAP cooking far more enjoyable, and tasty!
This rice is fantastic since it has a little zing to it from the lime juice. However, it is by no means sour at all. Just super fresh. This slight zing also helps balance out the slight saltiness from the stock used to cook the rice in. You can use fresh lime juice, or buy it bottled. It doesn't really make a difference as long as you don't buy one of those low quality mixtures that is half sugar. If you're using fresh limes you can always grate a little of the zest to the dish for more flavour and colour if you feel like it! 
As I mentioned, I am usually unsuccessful when it comes to cooking rice in the right amount of liquid. Either it ends up sticky or it dries up way before it is properly cooked and I end up having to keep dumping more water in. However, for some reason this recipe always works out perfectly. 
Now, I have never been one for cooking with the American cup system, so I have done this recipe in the equivalent grams/mls for the rest of the world. But it seems that the magic formula for long grain white rice (we usually use basmati or jasmine) is to use double the amount of liquid to rice in cups. This recipe therefore uses 1 cup of uncooked rice ( about 200 grams) and 2 cups of liquid (about 500 mls). 
Check out our other recipes
Print Recipe
Low FODMAP Lime and Coriander Rice
Light and fluffy rice makes for the perfect side dish!
Ingredients
200

grams

long grain white rice

500

mls

water

1/2

low FODMAP chicken stock cube

2

tbsp

lime juice

10

grams

fresh coriander leaves
Instructions
Weigh out and rinse the rice in a colander.

In a large saucepan, add the water and stock to the rice and bring to a gentle simmer

Add a lid to the saucepan, and turn the heat down to low so that it is very gently simmering with the lid for about 10 minutes, stirring occasionally to make sure it doesn't stick.

While the rice is cooking chop or rip up the coriander leaves.

Once the rice has absorbed all of the water, take it off the heat stir in the lime juice and coriander leaves and let it sit for a couple of minutes to fluff up.