Low FODMAP Carrot, Lime and Coconut soup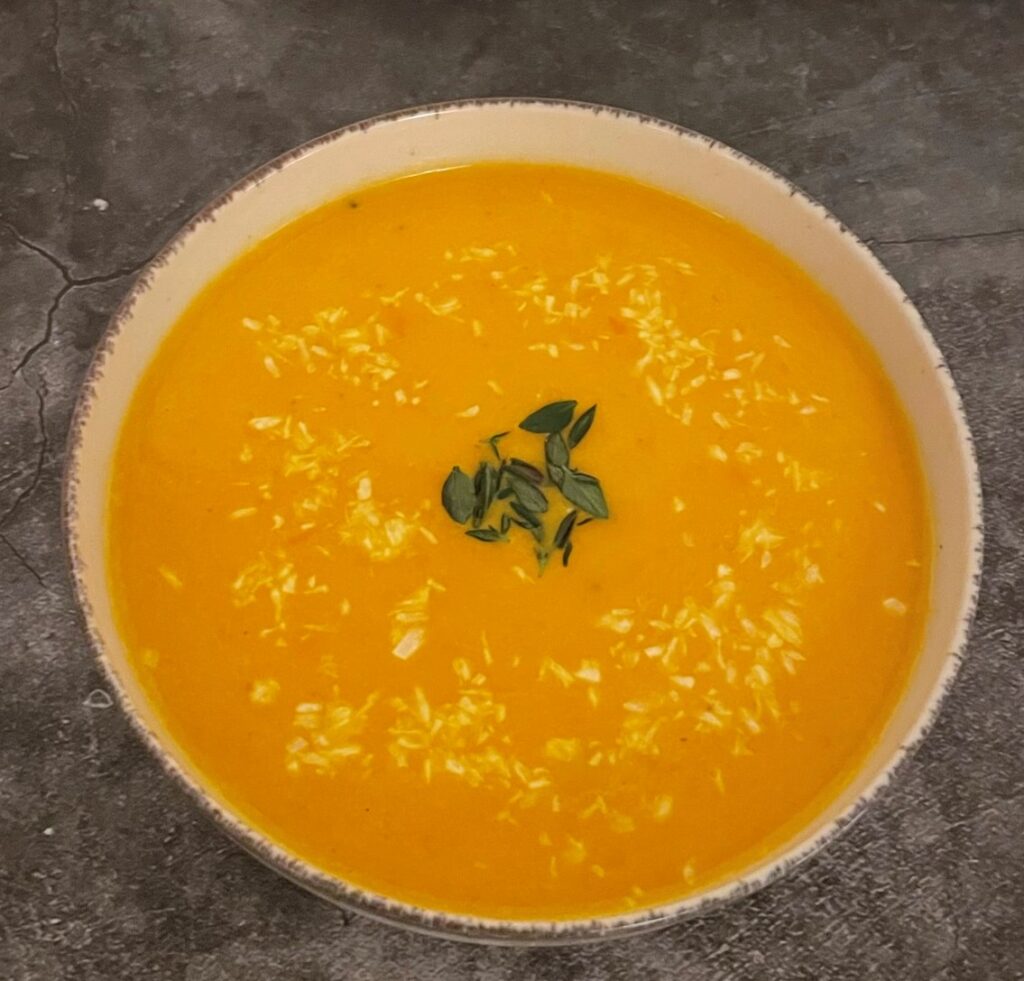 This mouthwatering Low FODMAP carrot, lime and coconut soup is incredibly tasty and absolutely perfect for a chilly winter's evening. 
I'm a massive fan of carrot soups on the Low FODMAP diet, so if you are too, then why not try mixing it up a little from a traditional carrot soup with a few extra ingredients to result in a quick, cheap but incredibly flavourful soup!
This soup is a brilliant meal for when you are in a hurry, it all comes together in 20 minutes and gives you a nice, filling soup that leaves your gut happy for the day! The bit that takes the longest is actually boiling the carrots. The cooking time of carrots can be adjusted a little bit depending on how big you cut the chunks. If you are in a hurry you could try cutting them a little bit smaller to speed things along. It wont matter for the final result as the soup is blended anyway.
Cooking this recipe is very straightforward, just peeling some carrots and cutting them into smaller bits. Bring some water and stock to a boil, add in the carrots and lime, and let it boil under a lid for around 15 minutes or until carrots are softened. Add in the coconut milk, blend and server. Doesn't get much simpler than than, and the end result is a delicious soup that tastes great both in the winter as well as summer time.
Serving suggestions and substitutions
We love to serve this soup with a slice of Low FODMAP sourdough bread. The beauty of the sourdough bread is that you can have a lot more of that compared to normal unfermented bread. Check out this post from Monash University if you are curious.
It also serves really well with a little bit of creme fraiche to make the soup extra creamy. Of course if you are vegan this is not for you, but please check the Monash Low FODMAP App and find a vegan low fodmap substitute. 
A sprinkle of shredded coconut on top also helps make the soup even more delicious!
If you love this recipe you should check out these: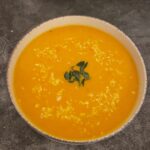 Print Recipe
Low FODMAP Carrot Lime and Coconut soup
A light and refreshing soup with a tropical inspiration.
Ingredients
250

grams

carrots

0,5

limes juiced and zested

500

ml

water

1

cube

low fodmap stock

2

sprigs

fresh thyme

0,5 tsp dried

120

grams

coconut milk
Instructions
Peel and cut the carrots into smaller pieces.

Place the carrots in a medium sauce pan, add the lime (juice + zest), water, stock cube and thyme.

Cover and let simmer on medium low heat for around 15 minutes until the carrots are soft.

Add in the coconut milk and blend until smooth with an immersion blender

Serve and optionally top with a sprinkle of shredded coconut or some lactose free crème fraiche for a nice creamy texture.