Low FODMAP creamy carrot, parsnip and potato soup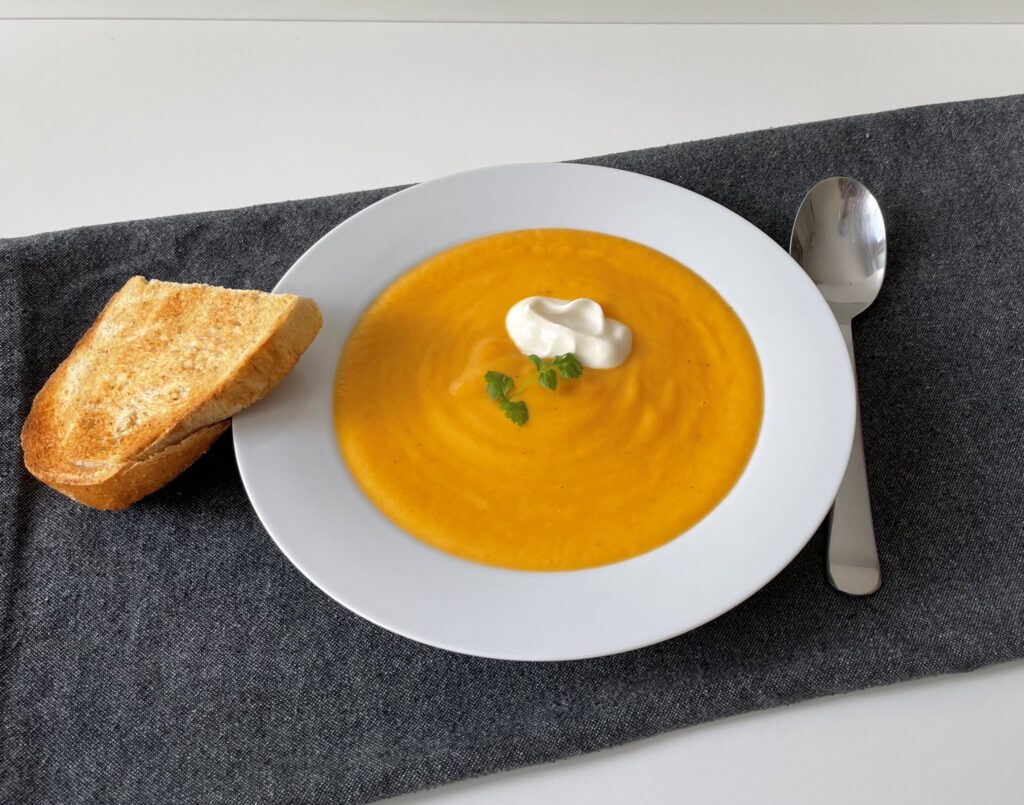 Let this hearty, filling winter soup comfort your soul and chase away the cold winter nights. This warming soup is filled with FODMAP-free root vegetables which makes it extremely gut-friendly. Not only that, it tastes so good, and nothing beats cosying up with a bowl of steaming soup when the temperatures begin to plummet outside.
Root vegetables on the low FODMAP diet
This warming soup is one of the most FODMAP friendly recipes you can find when on the low FODMAP phase of the diet. This is because FODMAPs aren't even detected at all in carrots, parsnips and potatoes, according to the Monash FODMAP app. Luckily this means you can eat them to your hearts content. 
Carrots, parsnips and potatoes are cheap as chips, and keep for ages. Therefore this means it is an incredibly low cost meal, and potatoes in particular are incredibly filling. You may think that this soup sounds a little plain, but parsnips are bursting with flavour. Carrots also bring a lovely mild sweetness to the dish, and of course the potato helps bulk up the soup and make it an incredibly satisfying meal. 
If you're not a fan of parsnips you can of course leave them out of the soup. This doesn't really affect the texture of the soup, but it will make for a milder tasting soup (still absolutely delicious though!). Just add in the equivalent amount of carrot in it's place (ie. instead of using half a parsnip, add an extra half of a carrot instead!).
Add a chunk of crusty bread
As great as this soup is on it's own, who are we to deny that nearly every soup in the world is better with a nice chunk of crusty bread (or even a simple piece of toast!). You can buy all sorts of gluten free breads in the supermarkets now. Or better yet, how about trying your hand at making your own sourdough bread? Sourdough is naturally lower FODMAP due to the fermenting process it goes through as it feeds on some of the FODMAPS! 
Print Recipe
Low FODMAP Carrot, Parsnip & Potato Soup
Delicious and creamy low FODMAP Carrot, Parsnip and Potato Soup
Ingredients
1

large

carrot

2

small

potatoes

1/2

large

parsnip

50

ml

lactose free cream

1

pinch

black pepper and salt to taste

500

ml

Low FODMAP chicken stock

1

tbsp

olive oil
Instructions
Peel the carrot, parsnip and potatoes and cut into 1cm cubes.

Add the oil to a large saucepan and bring to a medium heat.

Add the carrots, parsnip and potatoes to the saucepan and fry for 5 minutes stirring occasionally to make sure they don't stick to the pan.

Add the chicken stock, bring to a boil, reduce to medium low heat and cover with a lid. Let boil until soft (15-20 minutes).

Add 50ml of cream and blend until smooth with an immersion blender. Add salt and pepper to taste.

Serve with a table spoon of lactose free crème fraiche and if you like, garnish with some fresh corriander.