Low FODMAP Lemon & Parmesan Stuffing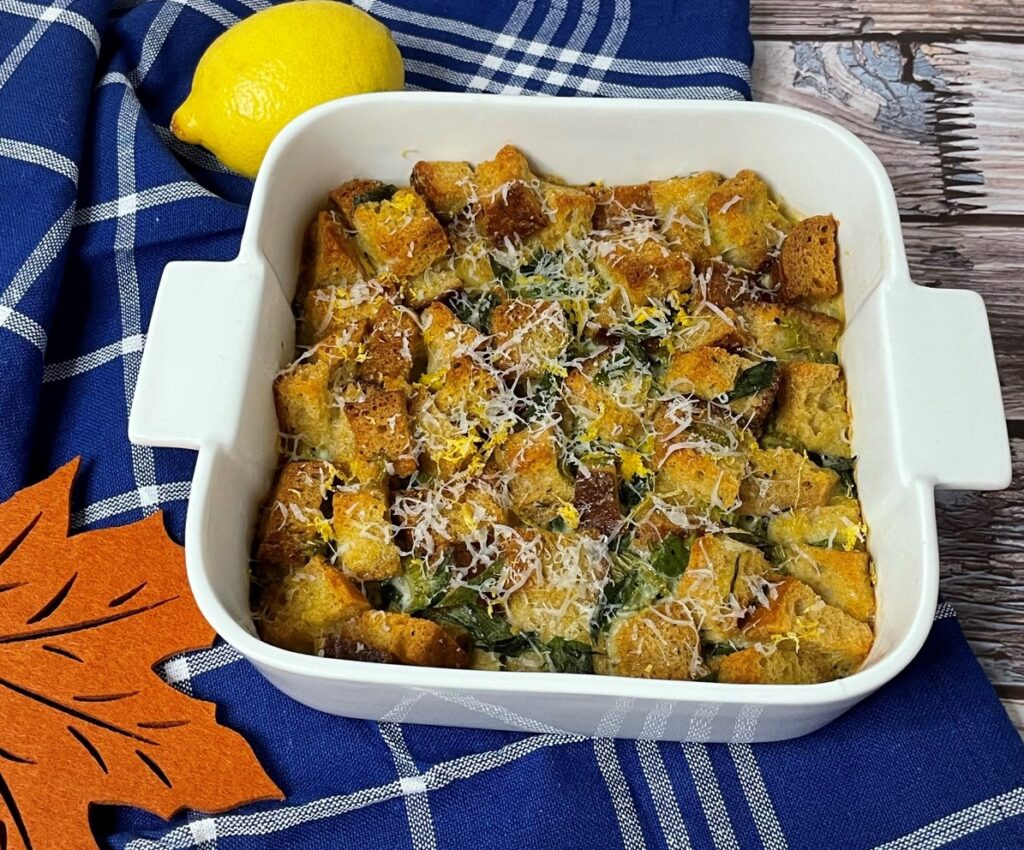 Don't you just love a classic homemade stuffing on Thanksgiving? Unfortunately most of the recipes we have come across are unsuitable for those of us following the low FODMAP diet. 
Luckily we have come up with a recipe that is just as tasty and far more forgiving for the low FODMAP diet. Of all the low FODMAP recipes we have created for Thanksgiving, this one ended up being my favourite!
Switch out the bread for some sourdough!
The biggest difference with this recipe is that to keep it lower in FODMAPs we used sourdough bread. Most classic stuffings use day-old white bread in the recipes, which unfortunately just makes them completely unsuitable for a low FODMAP diet. 
Luckily sourdough bread is naturally lower in FODMAPs, which is, curiously, down to how sourdough is made. Even so, it it still does contain moderate amounts, it is just lower other types of bread. You can have up to 55 grams of sourdough bread, which is about 1 slice. Although that still doesn't sound like a lot, once you turn that bread into a delicious Thanksgiving stuffing, it works out to be more than you would think! Not to mention the many other side dishes that usually accompany Thanksgiving dinner, you really don't have too much space on your plate anyway! 
While we wanted to still keep the classic elements in the stuffing, such as celery and herbs there are a few flavours you just can't keep in the dish (yes garlic and onion, I'm looking at you!). Luckily you can use the green parts of spring onions to keep in the onion-y flavour, and a bit of garlic oil help (although I will acknowledge that it just isn't quite the same). 
This is why we decided to ramp up the flavour in a different, more FODMAP friendly way. Parmesan, according to the Monash FODMAP app, only has trace amounts of FODMAPs, and as it is so flavourful you don't need much of it anyway. 
It is the same thing with the lemon zest. A little goes a long way! Adding this onto the stuffing also helps freshen the dish up, as so many of the side dishes end up being so heavy, a little freshness can certainly be welcome now and again!
Why not try out some of our other Low FODMAP Thanksgiving recipes?
Print Recipe
Low FODMAP Lemon & Parmesan Stuffing
This low FODMAP Lemon and Parmesan stuffing is perfect for those on a low FODMAP diet
Ingredients
110

grams

Sourdough bread

1,5

tbsp

Garlic infused oil

or any other kind

1

small

sprig of fresh rosemary

40

grams

Celery

20

grams

spring onions (green part)

about 5 stalks

1

large

egg

1

pinch

salt and pepper

To taste

150

ml

water

0,5

cubes

Low FODMAP chicken stock

10

grams

Parmesan cheese

0,5

lemons zested
Instructions
Boil the kettle and pour 150ml of boiling water into a mug, add the stock cube and stir until dissolved. Set aside and let cool for later. In a separate mug, crack and beat the egg and set aside. Pre heat the oven to 200c

Cube the bread (about 1cm cubes) and transfer to a mixing bowl. Drizzle over 1tbsp garlic oil. Rip up the rosemary or give it a rough chop, throw it in with the bread along with a crack of fresh black pepper and a pinch of salt. Mix thoroughly so the bread is coated in the oil.

On a baking tray covered with baking paper, bake the bread in the oven at 200c for around 15 minutes until golden and crisp.

Chop the celery and spring onion into thin strips. Heat 0,5 tbsp of garlic oil in a non stick pan. Add in the celery and fry on medium heat for 10 minutes. Add the spring onion and cook until wilted for around 5 minutes.

Place the cooked vegetables into a bowl and let cool for a couple of minutes.

When the bread is cooked, take it out of the oven and place in the bowl with the vegetables. Pour over the cooled stock and the egg.

Give a good mix until everything is coated evenly. Transfer to an oven proof dish and bake in the oven for ~20 minutes or until set and golden brown.

When the stuffing comes out of the oven, grate over the parmesan and sprinkle over the lemon zest.