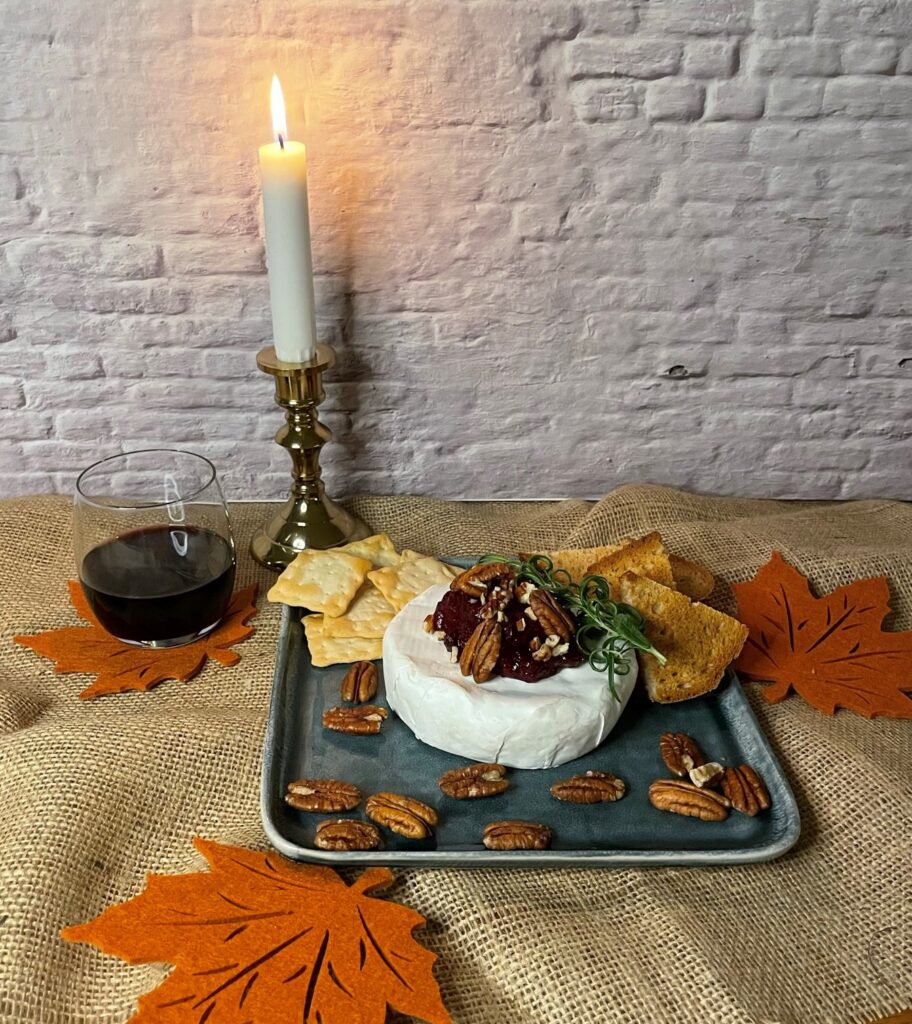 Low FODMAP Baked brie is a classic starter that is suited for pretty much any occasion, this of course includes thanksgiving!


Brie is a great cheese for the low FODMAP diet as it contains very few FODMAPS. The one we purchased even said lactose free on the wrapper. Make sure to keep an eye out for that if you are lactose intolerant.
Baking a brie is one of the easiest things to do. It is a simple as just pre heating the oven and placing the cheese in an oven proof  dish. Bake the brie at 180C for around 15 minutes until the inside has melted nicely.  This also has the great benefit of scaling very easily to accommodate all your guests. Just throw another brie in the oven for 4-5 guests.
You can of course make the brie a little bit more interesting by varying sides and toppings, more about that in the next section. 
Brie loves almost any flavouring you throw at it. Want to go sweet? Try some maple syrup! Savoury? Maybe some garlic infused oil and some herbs! This recipe focuses on a version that has a nice balance between sweet maple syrup and tart cranberry sauce. You should check out the recipe for our Low FODMAP Cranberry Sauce it fits perfectly with this dish.
Herbs are great to go with the brie. In this case we decided to go with rosemary, but you can pretty much experiment with whatever you have at home. Rosemary is a classic herb to go with baked bries and it also works really well with the cranberry and maple syrup.
How would you eat the baked brie without anything to dip in it? Bread is a great option for this, we decided to toast a few slices of sourdough bread (you can eat a lot more of that than regular bread, more information here). Simply toast the bread and cut into little strips or triangles for the most efficient cheese dipping!
Another great way of eating the cheese is to buy some gluten free crackers. You may have to look around for a cracker that fits with the Low FODMAP diet and is suited to your taste. Check out the Monash FODMAP App and make sure the crackers are low FODMAP.
Find more Low FODMAP Thanksgiving recipes here at Simply FODMAP
Print Recipe
Low FODMAP Baked Brie
This is the perfect starter for any dinner part. Works great for Thanksgiving to feed your guests while you fix the last bits before dinner.
Ingredients
1

Round of brie

around 200g

3

tbsp

Low FODMAP Cranberry sauce

See the recipe

1

sprig

rosemary

1

tbsp

Maple syrup

Optional

5

Pecan Nuts

chopped
Instructions
Place the brie in an oven proof dish. Cut a few slits in the top of it, but be careful to not pierce the sides or bottom.

Poke some rosemary into the slits and cover the top of the brie with the maple syrup (if desired).

Bake in the oven for 15 minutes at 180c

Take the brie out of the oven and top with Cranberry sauce and chopped pecan nuts. Serve with some toasted sourdough or gluten free crackers.