Low FODMAP General Tso's Chicken
Are you a fan of Chinese takeout but can't enjoy it because of a low FODMAP diet? Look no further than this delicious recipe for Low FODMAP General Tso's Chicken. This classic dish is a perfect dinner or lunch option that you can make right at home. With a little bit of preparation and the right equipment, you can enjoy the flavors of this traditional Asian dish without any of the digestive discomfort.
It can be very dangerous to fry foods at home on your own stove, so lets go through some frying safety before we get started. Please have a lid for you pot within reach at all times, this is to use for putting out a potential grease fire. DO NOT EVER pour water or any other liquid onto burning oil. If you use a type of oil that can withstand high temperatures and make sure to not overfill the pot (never go more than 2/3 of the way up) or heat the oil too fast you should run a very low risk of fires. Should you happen to get burned immediately run the burned part of your body under cold tap water and contact your doctor asap.
With that out of the way, we can now move on to the fun bit!
This is the part where it is fantastic to have a deep fat fryer at home. We are not lucky enough for that, this means that we have to do it the "hard" way. If you do have a fryer at home please go ahead and use one of those. As we don't have one, its hard to write detailed instructions on how to use one. But as far as I'm aware the temperatures and cooking times should be the same.
What we are going to do is a 2 step frying process to make sure that the chicken gets extra crispy and delicious. You fry all the chicken for a few minutes less than needed and then you come back to it and give it a last fry just before serving to make sure its hot and crispy when its time to serve.
Temperature is very important when it comes to deep frying. Both because if you fry at too low of a temperature then your batter will soak in a whole bunch of oil and make it greasy and chewy. Also if your temperature is too high the batter can brown/burn before the chicken is finished cooking or even catch fire if you go way above what is reasonable. The target temperature is somewhere between 170-180c (338-356f).
Making the sauce is very straightforward, all you really need to do is measure up all the ingredients. Once that is done you put it all into a large fry pan, ideally non stick, and cook it over medium heat until all the sugar is melted. Once the sugar is melted you add in the slurry of corn starch & water and let it cook for a minute or two until it thickens. Toss in the chicken and make sure its well coated in the sauce.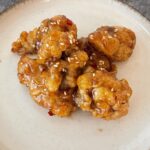 Print Recipe
Low FODMAP General Tso's Chicken
Try to make this classic takeaway dish at home
Equipment
1 large cast iron pot

or a deep fryer

1 cooling rack

1 pair of BBQ tongs or similar

without any plastic or silicone coating

1 thermometer
Ingredients
Sauce
1

tbsp

freshly grated ginger

2

tbsp

rice vinegar

1

tsp

hot chili flakes

or milder if preferred

4

tbsp

caster sugar

1

tbsp

dark soy sauce

3

tbsp

water

1

tsp

corn starch
Batter
1½

dl

gluten free AP flour mix

1½

dl

corn starch

1½

tsp

baking powder

3

dl

cold water
For chicken
400

grams

boneless chicken thighs

1

dl

corn starch

0,5

tsp

Salt + pepper

1

pinch

MSG

Optional but recommended

1

egg yolk

1

tsp

soy sauce
Frying
1

liter

Frying oil

High smoke point
Instructions
Making the batter
Whisk all the batter ingredients together in a mixing bowl and set aside for when its time to fry.
Chicken
Cut the chicken into bite sized pieces around 1 inch a piece, cutting a thigh into roughly 4 pieces.

Place the egg yolk, soy sauce, salt/pepper/MSG into a bowl. Mix well and add the chicken. Let sit for about 5-10 minutes to marinate and absorb the flavours.

Pour the corn starch into a bowl with a lid or a zip lock bag. Add all the pieces of chicken and give it a good shake to make sure its evenly covered in the corn starch.
Frying prep
Pour the oil into the large cast iron pot (make sure to never fill more than 2/3 way up the pot) and start heating over medium heat. This allows the oil to come to temperature slowly in a safer manner.

Regularly check the temperature of the oil, you want it to reach 180c before you start frying. If you fry at too low of a temperature the batter will absorb a bunch of oil.
First fry
Make sure the oil is up to 180c. Take a few of the pieces of chicken out of the corn starch bag.

Dip the chicken in the batter one piece at a time and give it a little shake to get rid of any extra batter. Carefully lower the chicken into the hot oil using the BBQ tongs.

Add 5-7 pieces of chicken at a time depending on the size of the pot. Add the chicken clockwise so you remember which pieces will finish cooking first.

Fry for 4-5 minutes. Pay attention to the oil temperature and check regularly with a thermometer. The temp will fall a few degrees after adding the chicken, but will climb back up again over time.

Pick the chicken out with the BBQ tongs and put on a cooling rack (placed over a baking tray, to catch dripping oil) to crisp up.

Continue frying chicken until all pieces are cooked.
Second fry (optional)
For the second fry you want to just let the chicken brown and crisp up a little bit more. Add the fried chicken back to the oil for 1-2 minutes, this time you can add a few more pieces at a time since the chicken is already cooked.

Add back the chicken in 2-3 batches, but be careful to not flood the pot you are using. Once the second fry is done place the chicken back on the cooling rack.
Sauce
Mix all the ingredients (apart from water and corn starch) in a bowl and stirr until combined.

Heat the mixture in a nonstick frying pan over medium heat until the sugar is just melted.

Combine the water and corn starch in a small bowl and stirr well. Tip into the frying pan and let boil for 1-2 minutes until thickened.
Finishing touches
Toss the fried chicken in the frying pan with the sauce until all coated.

Serve with some rice and low vegetables you like