Low FODMAP Eton Mess with summer fruits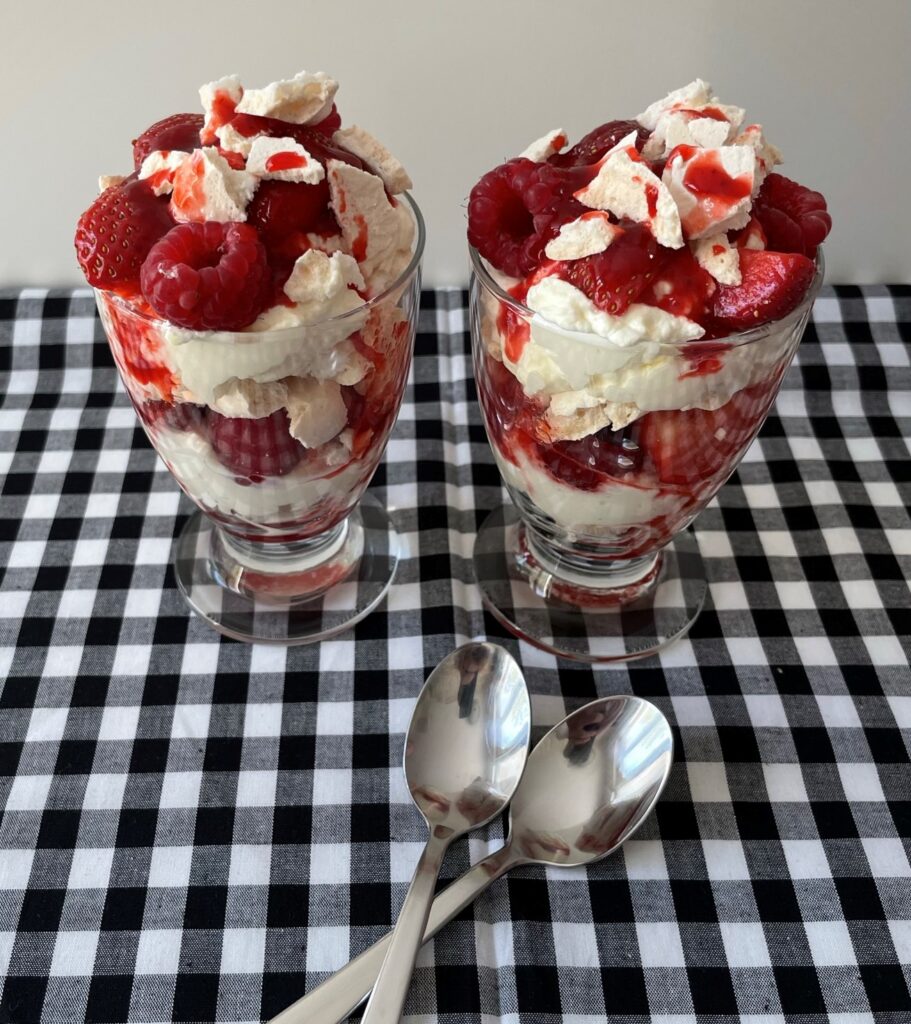 This has to be one of my all time favourite desserts. Growing up in the UK meant that this dessert was always offered up during the summer, and with good reason. It is absolutely delicious. Sweet, creamy and fresh, it is sure to be a favourite among everyone.
Meringues are one of those staples for desserts that are actually super easy to make. A lot of people think they are a lot trickier than they really are: but as long as you take your time with the beating of the egg whites (and make sure your mixing bowl and whisks are squeaky clean) they are quite hard to mess up.
One of the sad truths about the Low FODMAP stage of the diet is that fruit can be a little bit tricky to keep in your diet. One of the best things about this dessert is that a little fruit goes a really long way (probably because of the large amount of cream and meringue bulking it up!). In this Eton Mess we decided to use both strawberries (traditional of course) and raspberries. They go really nicely together, and one handy trick with this combo is that they don't stack (not sure what FODMAP stacking is? Read about it here)!  
Monash recently re-tested strawberries and lowered the acceptable serving size (you can read about it here) .You can still have up to 65 grams of strawberries (about 5 medium strawberries) before running into higher levels of fructose. As well as this, you can have up to 60 grams of raspberries (about 30 berries) before the fructans might become a problem. This means you can have 125 grams of these fruits combined, which is actually quite a lot! 
 Our recipe doesn't use anywhere near that amount so you are definitely well within all of the limits. This makes it really great even if you are extra sensitive to these FODMAPs.
In my opinion, lactose is definitely one of the better FODMAPs to be sensitive to. I say this not because it isn't in all of the most delicious foods ever, but lactose free products are pretty excellent these days. I honestly don't know if you can tell the difference between regular and lactose-free cream. Most people can easily get ahold of lactose-free variations at their local shop. However, the downside is that is lactose-free products are usually a little more expensive, but hey, it's well worth it for this dessert!
Print Recipe
Low FODMAP Eton Mess
Traditional English summer dessert
Ingredients
For the filling
4

meringues*

100

grams

strawberries

100

grams

raspberries

300

mls

lactose free whipping cream

40%
For the sauce (optional)
100

grams

chopped strawberries

35

grams

sugar

12

grams

lemon juice

1-2

tbsp

water
Instructions
For the sauce
Add the strawberries, sugar, lemon juice and water to a small saucepan.

Bring to a boil, and then simmer on a medium heat for 10 minutes. Take off the heat.

Over a bowl, press the sauce through a fine-meshed sieve. You may need to use a spoon to gently scrape the last bits off the sauce off of the bottom of the sieve.

Set aside and let cool for a few minutes while moving onto the rest of the dessert.
Assembling the dessert
Crumble up the meringues and place about half of them at the bottom of 4 dessert glasses.

Whip 300 mls of lactose-free whipping cream (40%) and spoon about half of the mixture on top of the meringues in 4 dessert glasses

Quarter the strawberries and place half of them and half of the raspberries on top of the cream in the 4 dessert glasses.

Drizzle about half of the sauce over the fruit in the 4 dessert glasses.

Repeat these steps for another layer in the dessert glasses finishing with using up the rest of the sauce drizzled over the top of the dessert.

You'll want to serve this dessert relatively quickly as the meringue will start to soften. It should be fine to prepare this just ahead of serving your main course, and saving in the fridge until you want to serve it. But for best results you should serve immediately to make sure you meringue is nice and crunchy!
Notes
The sauce makes a fair amount. We ended up using about 15 grams of sauce per portion. You can of course split it between the 4 portions and still be within the Low FODMAP limits for strawberries (25 grams fresh strawberries and 25 grams strawberries in the sauce per portion) but it is a rather generous helping. We like to have leftovers for the sauce as it is great for other recipes. 
*Check out our Low FODMAP Meringue recipe to make your own, they are super easy to make and much tastier than shop bought ones!