Low FODMAP Belgian Waffles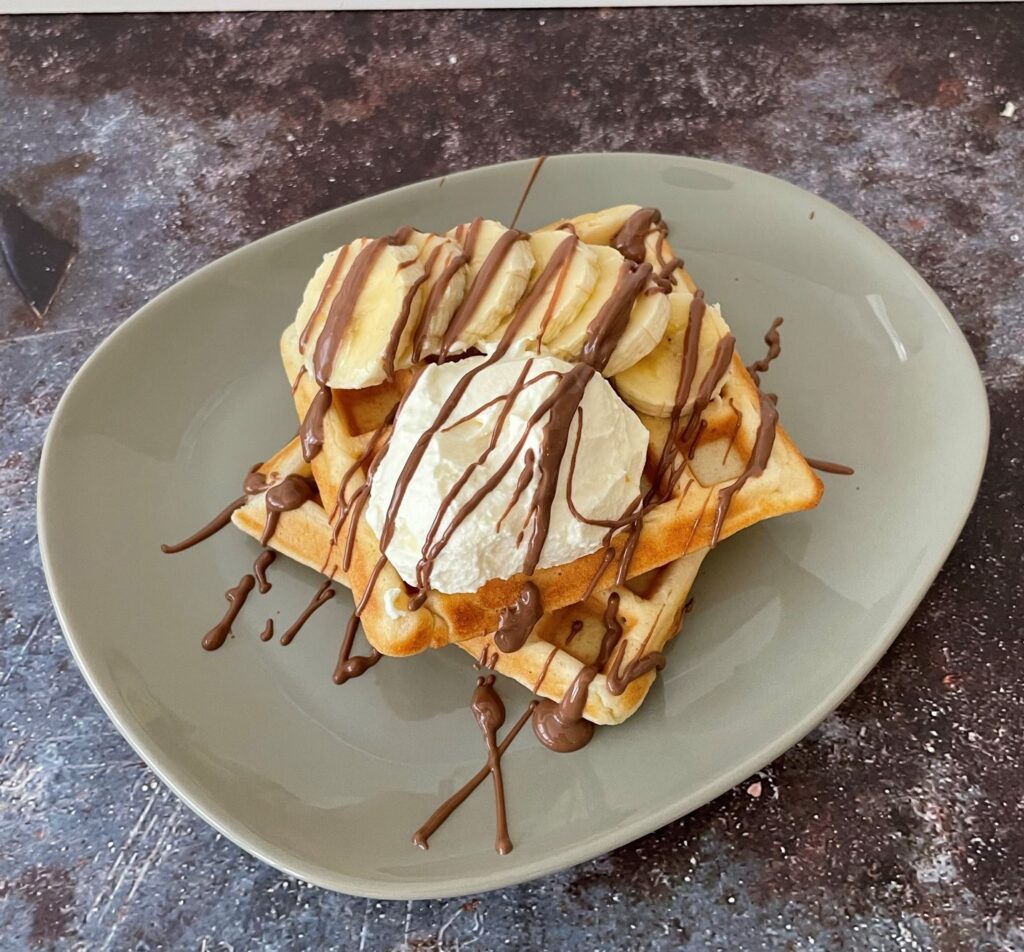 Don't we all just love waffles? This recipe for low FODMAP Waffles are my absolute favourite to make when craving something sweet for breakfast or lunch. They are perfectly light and fluffy and at the same time have that slight chewy texture once cooled down a little bit.
These can be topped with a large variety of things, but personally I would have to recommend melted (or grated) chocolate, some unripe banana and a dollop of whipped lactose-free cream.
Making the batter is pretty quick and easy. There are only 3 crucial points involved that would alter the outcome of the waffles. I will make sure to walk you through the steps to avoid the common pitfalls.
What does blooming the yeast mean? It means to dissolve the yeast in some body temperature liquid, in this case water, along with some sugar. You want to do this to make sure the yeast is alive. If the yeast is alive and healthy you should start to see some bubbles or froth growing on the top of the liquid. You can do this while preparing the rest of the ingredients.
Both eggs and yeast are sensitive to temperature. You will kill off yeast at around 45-50c and eggs will begin to scramble at around 60c. Because of this, you need to make sure to keep the liquids at no more than 40c. A good way to measure this is by the touch, if the liquid feels about the same temperature as your body or ever so slightly warmer you are good to go. Please don't go sticking your fingers in any boiling liquids (you have been warned). If using a microwave to melt the butter and heat the milk you should do it in 15 second increments to avoid burning yourself.
A large part of the light fluffy texture of these waffles comes from the "stiff peaks" formed by egg whites included in the recipe. The key to stiff peaks when it comes to egg whites is to make sure to use a very clean (preferably metal or glass bowl) and be certain to not get any of the egg yolk in there. Also make sure to not over mix when folding the egg whites into the waffle batter. Mixing too much may lead to you dissolving the egg whites into the batter and end up with a flat thick batter rather than a light and fluffy one.
Cooking a waffle is a pretty straightforward thing to do. I'm sure most of us have at some point been involved with cooking a waffle as a child or teen. If you happen to be one of the few who has managed to avoid it, then fear not because it is very simple.
Start by pre-heating the waffle maker 5 minutes before you start cooking. This is to make sure that the first round of waffles turns out as perfect as the rest of them. I have in the past found myself wasting the first round when cooking things like waffles or pancakes. I have found that the best way to avoid ending up with that pale, half-cooked and sad first waffle is to make sure to pre heat well.
Keep in mind that all waffle makers are different, so the cooking time and instructions may vary slightly between the different kinds. The general 3-5 minutes per waffle should hold up for most brands. Just pop it open and check the colour about halfway though and adjust the cooking time according to the colour of the waffle. You are looking for a lovely deep golden brown colour for that nice and crispy waffle.
Low FODMAP toppings and serving
My favourite topping is banana, chocolate and whipped cream. With this combination you should go for a darker chocolate as they tend to have less fodmap content, as well as more flavour. Also try to use a greener banana as they have a lower FODMAP content than the sweeter more ripe yellow ones!
You could of course also go for the more traditional fresh berries route. Or perhaps some whipped cream and jam. Remember to double check with the Monash low FODMAP app to make sure that you stay within serving sizes and pick toppings that are low FODMAP.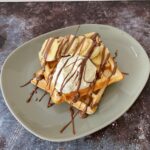 Print Recipe
Low FODMAP Belgian Waffles
You must try these light and fluffy gluten free waffles
Ingredients
1

large

egg

60

grams

butter

125

mls

lactose free milk

100

mls

water

5

grams

yeast

1

pinch

salt

1

tsp

vanilla extract

30

grams

sugar

200

grams

gluten free flour
Instructions
Dissolve the yeast into a mug of 100ml 37c water (should not feel hot or cold when sticking your finger into it). Stir in 1 tsp of the sugar and let sit for 5 minutes. If the yeast starts to bubble you know it is active and ready.

Put the milk and butter into a bowl and microwave in 15 second intervals until melted but not hot (too hot and it will scramble the eggs in a later step).

Separate the yolk and white of one egg. Add the yolk into a mixing bowl along with the rest of the sugar, vanilla extract and salt. Set the egg white aside for now.

Add the yeast mixture, butter & milk mixture and the gluten free all purpouse flour to the mixing bowl. Whisk until no lumps of flour are left in the batter.

Whisk the egg whites until stiff peaks in a different (clean!) bowl. Make sure to not get any of the yolks in there otherwise it wont stiffen properly.

Fold the whipped egg whites into the batter until just incorporated. Make sure to not over mix it. Let the mixture sit for about 10-15 minutes to allow the yeast to start working.

Pre heat the waffle maker and then spread an even layer of waffle batter on it. Cook until golden brown for about 3-5 minutes per waffle.

We recommend letting the waffles cool on a rack for a couple of minutes before serving. This helps them to firm up just that little bit extra for a nice, chewy texture.

Serve with your favourite low FODMAP toppings and enjoy!